Danske Northern Ireland makes nearly £1m loss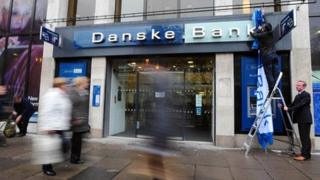 Dankse Bank's Northern Ireland operation has made a loss of nearly £1m in the first half of the year.
However the bank's balance sheet has considerably improved. The bank lost £25m in the same period last year.
The bank's main business is operating in profit, but they still had to write off a significant amount of bad debt.
This is mainly due to loans in the property sector that will never be paid back.
Chief executive Gerry Mallon said: "The amount of impairment charges - which is bad debt provision - has actually decreased massively. Year on year, it's down by 70%, so things are trending very strongly in the right direction."
In the Republic of Ireland, the situation is considerably worse, Danske Bank made losses of 17.4m euros (£15.1m). Despite being a smaller operation than in Northern Ireland it has been more heavily hit by bad debts, both from businesses in trouble and individuals who are unable to keep up with mortgage payments.
Danske's Danish parent company made profits of nearly 500m euros (£436.8m) with their operations in the Republic and Northern Ireland lagging behind the rest of the group.