17 people are rescued from Lough Neagh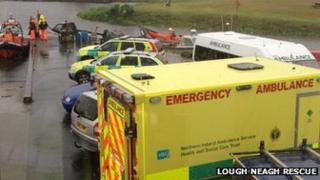 Fourteen young people and three adults have been rescued after getting into difficulty on Lough Neagh.
The alert was raised near Ardboe in County Tyrone on Wednesday evening.
Lifeboats, an ambulance and a police helicopter were at the scene. The man who raised the alarm tried to go to the group's help but got into difficulty.
The NI ambulance service said nine young people and an adult were taken to Antrim Area Hospital suffering from "slight exposure".
The young people were out on the water in seven canoes when they became stranded on Blacker's Rock.
A member of the team who was on shore contacted the emergency services.
Kinnego Coastguard Rescue Team, three independent rescue boats from Lough Neagh, Northern Ireland Ambulance Service, and a PSNI helicopter went to their help.
Ardboe and Kinnego lifeboats managed to locate the canoeists and took them to Ardboe where they were met and treated by paramedics.
The man who had initially made the 999 call for help had become lost himself. He was found by the police helicopter and helped to safety by Kinnego Coastguard Rescue officers and a lifeboat.