McGurk's Bar families to begin Belfast legal challenge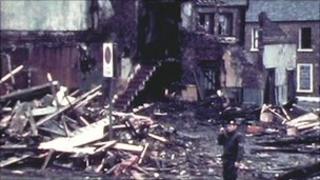 Lawyers for families of people killed in the McGurk's Bar bombing are to begin legal proceeding to gain access to a report into the atrocity.
Fifteen people - all Catholics - were murdered in the UVF bomb attack on the north Belfast bar in December 1971.
The families want to see an Historical Enquiries Team (HET) report into the original RUC investigation into the attack.
They say its release has been blocked by Chief Constable Matt Baggott.
In a statement, Kevin Winters Solicitors, which is representing the families, said: "Despite repeated requests and talks with the chief constable's office, the HET and the Policing Board there is no sign of the report being given to those most affected, the bereaved families.
"We can confirm that, as of today, the families have instructed us to commence legal proceedings in the High Court in Belfast to get access to the report. They do so reluctantly but have no choice."
The families have also lodged a complaint with the Police Ombudsman's Office.
Later on Thursday, some of the families of those who were killed will lodge a complaint in person with the Policing Board.
In February 2011, the Police Ombudsman published a report into the attack claiming the original police investigation was "biased".
It said the RUC was so focused on the idea that the IRA was responsible that it did not properly probe loyalist involvement.
In response, Mr Baggott said that several other reports had reached different conclusions.
He also said he believed all lines of enquiry had now been exhausted.
In 1978, UVF member Robert Campbell was convicted for his part in the attack.