Robinson and McGuinness differ on Castlederg parade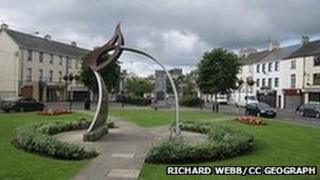 There is no justification for a republican parade in Castlederg next month, the first minister has said.
Peter Robinson has challenged the Parades Commission to show sensitivity to IRA victims.
The parade commemorates Tyrone's republican dead and is backed by Sinn Féin.
Deputy First Minister Martin McGuinness said re-routing the parade had been sensible but the issue raised broader questions about dealing with the past.
After unionists called for the parade to be banned, Sinn Féin said the parade would no longer pass the town's cenotaph or Methodist church.
Peter Robinson, however, described the parade as insensitive and said it glorified terrorism.
"The principal purpose is to glorify two individuals who sought to bomb Castlederg, but blew themselves up well away from Castlederg," he said.
"If you are going to have a commemoration at all, and I think it's inappropriate to have it at all, you would have it at the place where they blew themselves up rather than the target town. That is totally insensitive."
Martin McGuinness said the issue was "of how we deal with the past and whether or not people have a right to commemorate those people who have lost their lives".
"Right across society in the course of recent years, we have seen people on all sides of the debate, albeit from a different perspective and different narrative, honour their dead."
SDLP Councillor Nichola Mallon said people were "sick, sore and tired of the double standards of both the DUP and Sinn Fein" when it came to contentious parades.
"Sinn Fein are on record repeatedly objecting to loyalist parades they find offensive and yet are organising a commemoration parade which is considered offensive by many unionists living in Castlederg," she said.
"The DUP on the other hand is objecting the Castlederg commemorative parade on the grounds that it re-traumatises victims of the Troubles.
"Yet the DUP failed again and again to object when loyal orders in Ligoniel employed the Shankill Star Flute Band, formed in the memory of UVF killer Brian Robinson, to parade along the very same road where Brian Robinson gunned down innocent Ardoyne man, Paddy McKenna."
Ms Mallon said she welcomed the talks with Dr Richard Haass, that are due to take place in September and hoped they could resolve these kinds of issues.