Northern Ireland grammar schools to get ESA incentive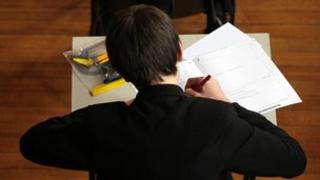 The Department of Education is to offer a new incentive to grammar schools in the hope of finally winning approval for the new education authority (ESA).
It is understood that a major concession will be made, but with strings attached.
ESA was first proposed by NIO minister Angela Smith in November 2005, but has still not been agreed by the political parties in Northern Ireland.
So far, preparation for it has cost more than £10m.
A recruitment freeze in the bodies it is to replace has had a major impact with hundreds of staff "acting up" temporarily in jobs.
ESA has been promoted by Sinn Fein who say they are confident it will go ahead despite the opposition.
The main sticking point has been that voluntary grammar schools would lose their status as the employing authority.
Resistance
That currently gives them the right to set terms and conditions for non teaching staff such as cleaners and technicians.
The role was to have been taken on by ESA.
The DUP has led resistance to that and now it is understood that, in a major shift, Sinn Fein wants to offer all schools the right to be the employers but there would be conditions attached.
They would have to give official conditions and rates of pay to non teaching staff and also show that they provide a high standard of education for pupils.
It has been described as a significant game-changer and a newly drafted paper is likely to be presented to the Northern Ireland Executive in September.
If and when the law is passed, ESA is expected to cut costs and bureaucracy.
It is thought that the parties opposed to ESA will want cast iron guarantees on the rights of voluntary grammar schools and the controlled sector before they agree.
Two trade unions have criticised the suggestion that schools may be permitted to be the "employing authority" as long as they meet some conditions.
Unison said the news was very disappointing and sets aside the interests of staff in favour of a political compromise.
NIPSA said it was bizarre to move from ESA being the single employer to a situation where there are 1,250 employers.
The Alliance Party has said the idea could remove one of the blockages to the bill and that the delay is badly affecting education.
But the Ulster Unionist Party claimed it was a "desperate attempt" by Sinn Fein to slip through a "flawed and dangerous" piece of legislation.
Education Minister John O'Dowd said his "main aim" was "to see an improvement in educational outcomes for all our children".
"I am working hard to deliver these improvements; indeed outcomes have been rising consistently since the restoration of devolution," he added.
"I believe, however, that we cannot deliver sustained and continued improvements without the establishment of ESA.
"The establishment of one body to take over the responsibilities of eight existing organisations will ensure equality of access to quality education provision, will deliver a more streamlined administration by reducing bureaucracy and will ensure that much needed resources can be directed to supporting front-line services."
He said he would be engaging in further talks "in the coming weeks", with the aim of bringing "final proposals to the executive table".