Sinn Féin's Phil Flanagan investigated over royal baby tweet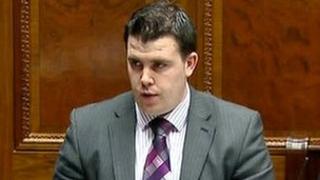 A Sinn Féin's MLA is to be investigated by the assembly's standards watchdog over an offensive remark on Twitter about the birth of the royal baby.
The move has been welcomed by Traditional Unionist Voice leader Jim Allister, who made the complaint.
Last week, Phil Flanagan apologised after retweeting an offensive tweet of a sexually explicit nature to his followers on Twitter.
It concerned the royal birth and the Duke and Duchess of Cambridge.
The TUV leader said it was crude and offensive and claimed it was a breach of the code of conduct by which all MLAs are bound.
He formally complained to the Assembly Commissioner for Standards, Douglas Bain.
He has now received a reply from Mr Bain saying he is satisfied the complaint meets the criteria set out in assembly rules.
Mr Bain has now begun an investigation.