Man charged over £100,000 Belfast cannabis haul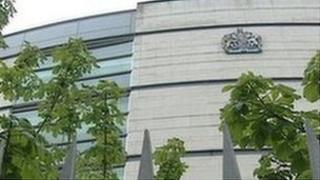 A man has been remanded in custody in connection with the seizure in Belfast of an estimated £100,000 worth of cannabis plants.
Sheng Gao, 36, faces charges of cultivating cannabis and burglary with intent to cause damage to a house.
Police seized the cannabis on 22 July.
Mr Gao, of Richview Street, was also charged with overstaying his leave to remain in the UK at Belfast Magistrates' Court on Tuesday.
He nodded to confirm he understood the allegations when they were translated for him.
A detective involved in the investigation told the court he could connect the accused to the charges. Mr Gao's lawyer did not put any questions to the officer or seek bail during the hearing.
The accused was remanded in custody to appear again by video link on 27 August.