Housing Executive meeting to decide fate of 100 NI jobs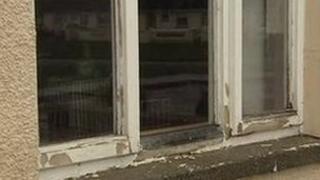 The fate of more than 100 jobs in Northern Ireland may be decided at a Housing Executive meeting later.
Several companies have previously criticised a delay in awarding new contracts to double-glaze thousands of Housing Executive properties.
MLAs have now written to the Housing Executive, saying the delay has put over 110 jobs at risk.
The letter was signed by the SDLP's Patsy McGlone, Sinn Féin's Daithí McKay and the UUP's Michael Copeland.
In May 2012, Mr McCausland told the assembly an estimated 30,000 homes were to be double-glazed by 2015 as part of a Stormont programme for government commitment.
Mr McCausland had ordered the Housing Executive to "rigorously review" the specification of the old contracts, stating it was partly because the window hinges cost five times the industry standard.
Stanley Graham, general manager of McIlhattons, one of the firms involved, said his company has already had to lay off 10 staff due to the delay.
"We're faced with 110 more people going across the industry because of the delay in these contracts," he told BBC Radio Ulster's Nolan Show.
"There've been no new contracts released since May of last year and despite a number of meetings with the DSD and with the Housing Executive.
'Tendering exercise'
"We've tried to move it forward we've put forward different suggestions and we basically aren't getting anywhere.
"At our last meeting the Executive acknowledged that the construction industry needs the work, the Executive needs the work commissioned and delivered and they have the money to pay for it.
"We just seem to be at an impasse about how we can get this moving forward.
"We've already lost 10 jobs, we're going to lose another 10 in production, we're going to lose two in survey and one in processing. That's over 50% of our workforce.
SDLP MLA Patsy McGlone said the companies affected were mainly family-run businesses employing in some instances up to 40 people.
"There are 13,700 family homes waiting for double-glazing work to begin," he said.
"The money's there for it but we're caught up in procurement issues, in legal issues that are delaying this and putting these people's jobs at risk.
"The Housing Executive board meets on Wednesday to deal with these matters and we met last week with senior officials from the Housing Executive to impress upon them the urgency of this situation.
"The contracts themselves should have been reissued in June of this year and the work continued, that didn't happen as we know because it's tied up in a lot of complex legal issues.
"However, I hope that tomorrow at the board meeting they have sought legal advice around these procurement issues and I hope that at the board meeting on the 31st that they'll be able to deal with these issues and get the procurement tendering exercise out there as soon as is humanly possible."
A statement from the Housing Executive said it had met double glazing suppliers and was "fully aware of their concerns about delays in awarding new contracts".
"It is in our interests to have contracts up and running as soon as possible. We have tenants waiting and finance in place and we know that the double glazing programme is very important for the local economy.
"However, given the wider maintenance contract issues, the Housing Executive must ensure that public money is being used properly. We hope to have this matter resolved shortly."