Quinn Insurance: Administrators sue PriceWaterhouseCoopers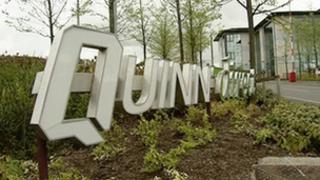 The administrators of the former Quinn Insurance are suing the accountancy firm PriceWaterhouseCoopers (PwC) for 1bn euros (£865m).
PWC were the auditors of Quinn Insurance before it collapsed, and the accusation is that they were negligent. PWC denies that it was.
The administrators say they will use any damages they may win to repay some of Quinn's debts to the Irish state.
Quinn Insurance went into administration in 2010.
Two administrators from the firm Grant Thornton were then appointed. They are arguing that the insurer would have avoided significant losses had PwC highlighted problems in company accounts.
PwC said it stood by the quality of its audit work.
"These proceedings are unjustified and devoid of merit. The affidavit, accompanying the application, contains factual inaccuracies, misrepresentations of the facts and assertions with which we fundamentally disagree," PwC said in a statement.
US general insurer Liberty Mutual bought 51% of Quinn two years ago and rebranded it as Liberty Insurance.
The remaining 49% is owned by the Irish state.
The case is being heard in the Commercial Court in Dublin.