Belfast homes trashed after Facebook 'house party' message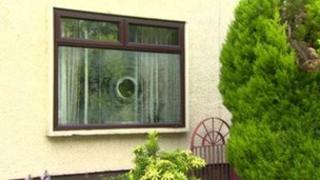 A woman has said hundreds of uninvited guests "trashed" her home after a message was posted on Facebook saying her son was having a house party.
The woman, from west Belfast, said some of the young people who were put out of her house were later responsible for sectarian attacks in a loyalist area.
Police were called to Brook Drive on Saturday night after reports that a house party had got out of control.
Four cars and a house window were later damaged in the nearby Suffolk area.
Officers are treating the attacks on property in Ringford Park, Suffolk, as a hate crime and both unionist and nationalist politicians described them as sectarian.
The woman, at whose home the trouble appears to have begun, said her 17-year-old son had organised a "social gathering" for about 10 of his friends.
She said a "stranger" posted details of the gathering on the social networking site Facebook.
"About an hour and a half later, a few hundred people turned up to try and get into my home," she told BBC Northern Ireland.
"The front door was locked, the side gate was locked and they were actually climbing over the fences.
"My dining room table was smashed, there were cigarette butts in my bath, the bath was kicked in. They actually stole the food out of my fridge."
The woman was at work at the time, but had allowed her son to invite 10 friends over and had asked her next-door neighbour, and her own mother and sister who live nearby, to keep a check on the house.
She described her teenage son as a "responsible child" who had never caused her any trouble and said he and his friends had tried to get the uninvited youths out of the house.
"Two neighbours actually tried to remove them (the intruders) from the house but they informed me that there was that many of them, it was impossible."
She heard about the trouble when one of her neighbours phoned her at work.
"I got a taxi home straight away and while I was coming down Black's Road, they were actually in their hundreds. Young people, drunk, lying on the ground drunk, throwing up."
She said the youths had smashed bottles outside her home, and while she was still cleaning up at 03:30 BST on Sunday, young people were still arriving outside her house for the party.
The woman said she wanted people to be aware that those involved in carrying out the sectarian attacks in the loyalist Suffolk area had not been invited to a party in her home.
"They actually came, broke into my house and totally trashed it and left again. I wouldn't condone that type of behaviour on any housing estate, but that's what happened," she said.
A police spokesman said: "A number of youths moved from the party into the street and there were reports of scuffles between the youths.
"It was reported that there were between 50 to 100 youths in the area."
He confirmed that no arrests have been made in relation to the sectarian damage in Ringford Park that was reported half an hour after police were called to Brooke Drive.
He appealed for residents to come forward with information.