World Police and Fire Games: Ice hockey matches begin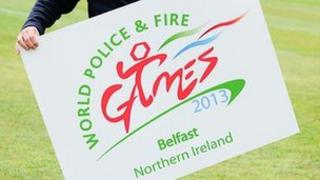 The first events of the World Police and Fire Games 2013 have taken place at the Odyssey Arena in Belfast.
The ice hockey tournament got underway on Thursday ahead of the official opening of the games next week.
First Minister Peter Robinson and Culture Minister Carál Ní Chuilín were there for the Northern Ireland Trident's first match against the Toronto Courts.
Mr Robinson said he was proud to have such an event in Northern Ireland.
"It has been a long time in the planning indeed for the lads who are out on the ice at the moment, three years they've been working up to this," he said.
"So this is the pinnacle for them, at a top class event, to be able to participate and it's the start of a whole long period of top class events."
Ms Ní Chuilín said there would be something at the games for everyone.
"It's mostly free and that's what it's about," she said.
"It's about us investing in sport and culture and heritage and it's about making sure that people come back."
The ice hockey players, including a team of US fire-fighters called the Las Vegas Guns and Hoses, are the first batch of competitors to arrive.
Representatives from 67 different countries are expected to join them.