Sammy Wilson defends Northern Ireland rates relief cut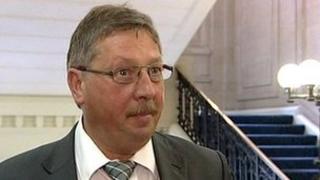 Finance Minister Sammy Wilson is proposing to scrap relief payments given to some 40,000 low income ratepayers.
It is one of the changes Stormont is making to cut the welfare bill.
The move would save about £6m towards the 10% reduction in rates support Mr Wilson has to find under cuts made by the Coalition government at Westminster.
He said the proposal was the least worst option.
"We have a difficult decision to make and the suggestion is that this is one area of rate support that we can reduce and make significant savings on without causing the type of hardship it might cause for some of the people who are on the lowest level of income," Mr Wilson said.
"Even after this change has taken place we will still have the most generous rates support scheme of any part of the United Kingdom - 225,000 people will still benefit from rates support.
"We have had a huge cut in the amount of money that is available for rate support, the executive has made the decision that we will bear that cut for the next two years, but eventually that will cost us about £30m per year and we've got to make some savings at some point."
Mr Wilson launched an initial consultation at the start of the year looking at the options for dealing with a 10% cut in the rates relief budget, which is is estimated to amount to about £18m.
"The one thing we cannot do is carry on at the current level of rate support," he said.
Alliance Party finance spokesperson Judith Cochrane said she was concerned by the proposal.
"He (Mr Wilson) has described this proposal as being one of the 'least worst option', however yet again low income households will be the ones to feel the effects," she said.
"While I understand the minister must make these efficiency savings, he should be looking at other options."