James Kincaid dies in Strule River in Newtownstewart, County Tyrone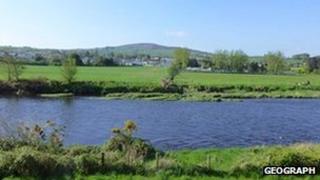 Police have released the name of the 34-year-old man who died after an incident in the Strule River in Newtownstewart, County Tyrone.
James Kincaid was one of two men who got into difficulties in the river near Douglas Road at 17:20 BST on Saturday.
The other man was rescued and treated by ambulance staff for what are believed to be non life-threatening injuries.
Mr Kincaid's body was recovered afer a search of the river.
Ivor Scanlan from Newtownstewart Community Association was at the river on Saturday.
"It was very sad, the whole community's really shocked with this sad tragedy," he said.
"He was a very pleasant character, very friendly, and just like the rest of us he loved a bit of splashing about in the water in the river."
The Presbyterian minister in Newtownstewart, Reverend Roger McElnea, said tributes were paid to Mr Kincaid in church on Sunday.
"It was very noticeable in our worshipping congregation, there was deep shock and sadness right throughout with people from all over our community just thinking of the deep loss of the family.
"It happened on the river on one of the bends - there are a number of bends as the river passed through the town, and there seems to be large pools and possible currents on those bends.
"The levels were quite low, but still with water there's always danger."
An investigation is under way into the circumstances surrounding his death.
A police spokesperson said: "Police would wish to take this opportunity in the warm weather to remind the public of the dangers of being tempted to go swimming in rivers or other non designated areas.
"This can be a hazardous activity especially where alcohol has been consumed and police would appeal for everyone to stay out of these bodies of water."