Rihanna sues Topshop over NI pic on T-shirt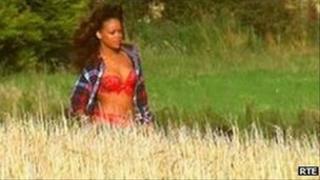 Pop star Rihanna featured on racks of T-shirts at London High Court on Friday but the singer stayed away.
She is suing Topshop for $5m (£3.3m) over a T-shirt with her photograph on it taken during filming in Northern Ireland in 2011.
She says the fashion chain duped fans and may have damaged her reputation.
But Topshop lawyers say she is making an unjustifiable bid to establish a "free standing image right" over use of her picture in the UK.
On Friday, the court heard Rihanna's claim that the picture on the T-Shirt was "very similar" to images used on CD sleeves for one of her albums.
She claimed sales of the shirt amounted to "passing off" and may have led to her reputation being tarnished with her fans, had they bought the garment thinking it was "genuine" endorsed merchandise with "an emotional connection to their heroine."
She alleged an unknown quantity of T-shirts was acquired by Topshop in 2011 and early 2012 and offered for sale under the name Rihanna Tank.
Court documents claim that, after being challenged by the singer's lawyers, Topshop dropped her name on the T-shirt and referred to Headscarf Girl Tank, and then to Icon Tank.
The image under attack was taken by a freelance photographer "without her permission" while Rihanna was filming a video in Northern Ireland for one of her first singles in 2011.
The singer accuses Topshop of passing off, or attempting to pass off, the T-shirt as being approved or authorised by her and her associated companies and wrongly using her name in the course of trade.
However, Topshop lawyers have argued that they did nothing wrong.
They point out that, while the singer is claiming that Topshop T-shirt blighted her image, it has not stopped her entourage calling the retailers and "asking for products for her to wear" half a dozen times since she launched the lawsuit against them.
The judge heard that Topshop bought a licence to use the image on the T-shirt from the photographer who took it, during the video shoot for Rihanna's single We Found Love, which was filmed in Belfast and Bangor in 2011.
Martin Howe QC, for Rihanna, who is suing Topshop's owners, Arcadia Brands Limited under her real name, Robyn Rihanna Fenty, told the court: "Rihanna is one of the world's most famous musical performing artists. She needs little introduction.
Goodwill
"Like most well known contemporary performing artists, she engages in merchandising, and like most such performing artists, it represents a significant part of her revenue stream.
"In 2012, Topshop sold a T-shirt displaying a clearly recognisable image of Rihanna taken when she was on a video shoot. She was wearing her makeup and hairdo for the video shoot, and very similar images of her appeared on her CD inlay (for the album Talk that Talk.)
"The sales...gave rise to a likelihood of deception, damaging Rihanna's goodwill.
"A substantial number of people buying, or even seeing, those T-shirts would think they are approved or somehow connected with Rihanna, when, in fact, they were not approved of or connected with her at all."
Mr Howe said it was not a concern about the quality of the T-shirt but rather the fact that it did not have "the emotional attachment to the heroine and (for fans) the desire to own the actual item issued by their heroine".
"Rihanna's case is not about stopping the sale of all images of her on T-shirts in the UK, nor is it about trying to create a free standing so-called image right in the UK. Passing off is a question of fact in each case," he said.
"Rihanna's case is that she has generated reputation and goodwill beyond that as a musical performing artist (which) extends into the fashion and clothing industries and has done so for years.
"She has collaborated in the design of clothes with a range of clothing designers at the high end of fashion, including Giorgio Armani and Gucci, and at established high street fashion stores, including River Island.
"These garments were not only endorsed by her but were sold and labelled under Rihanna's name and trademark. These ranges were highly acclaimed."
Rihanna's lawyers want the judge to grant an injunction to prevent Arcadia and Topshop continuing to sell clothes "using the mark Rihanna or any confusingly similar name", or passing off any goods as approved by her.
They also want the delivery up or destruction of all clothes which would breach the injunction and the payment of damages.
'No right'
Geoffrey Hobbs QC, for Topshop, responded that, having bought a licence to use the image from the photographer who took it, the fashion giants were fully entitled to sell the T-shirt.
"We resist the claim on two main bases; first, this is, in substance and reality, an impermissible attempt by Rihanna to establish an image reproduction right in the UK. There is no such right.
"On the contrary, Topshop are entitled honestly to sell the garment, having obtained the necessary copyright licence.
"Secondly there is no representation here, given that the garment is fashion wear and not promotional merchandise."
Topshop lawyers said the singer was seeking legal recognition for an assumption that "only a celebrity or her successors may ever market, or license the marketing, of her own character".
They contended that the monopoly pre-supposed by that claim "does not in point of law exist and certainly cannot be provided for by the law of passing off".
Hitting back at the star's claims that her reputation may have been hit by the sale of the unendorsed T-shirt, Mr Hobbs added: "It is not in dispute that Rihanna is a celebrity (but) the reputation of Topshop is also material to the allegation of misrepresentation.
"Rihanna's own shopping habits provide compelling evidence of Topshop's reputation in fashion wear. (There are) 10 recent occasions on which her representatives have contacted Topshop asking for products for her to wear.
"We note that six of these requests post-date this dispute."
The hearing continues.