Sean Quinn case: legal action against Central Bank and finance minister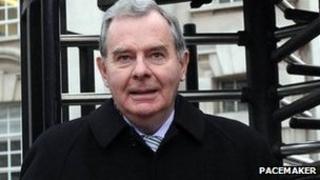 Lawyers for the family of Sean Quinn have begun a court action in the Republic of Ireland to add the Irish Central Bank and the department for finance to a £2.4bn euro (£2bn) case, against the former Anglo Irish Bank.
They say the bank and department were aware that Anglo was funding the family's share dealings in the bank.
The family claims they should not have to repay the bank's loans to them.
Mr Quinn, now bankrupt, was once Ireland's richest man.
An earlier court hearing had heard that between October 2005 and July 2007 Sean Quinn had built up a 28% stake in the former Anglo Irish Bank using contracts for difference, a financial instrument used to gamble on the bank share price.
When senior executives at the bank learnt of this "colossal interest" in September 2007, a system was set up whereby money was loaned to the Quinn group to support this gamble.
Share dealings
On Wednesday, lawyers for the Quinn family accused the Central Bank and the Irish department of finance of conspiring to get the former Anglo Irish Bank to commit an illegal act, then to commit that act, and thereby to engage in market abuse.
The Quinns claim that the financial regulator, who was based in the Central Bank, and the department of finance were aware that Anglo was secretly funding the family's ill-fated share dealings in the bank.
Lawyers for the family claim the officials purpose was to protect Anglo's falling share price.
Three senior bank executives are due to go on trial next year charged in connection with the alleged market abuse.
The Quinn's full case against the bank will not be heard until the trial of former chairman Sean FitzPatrick and two other Anglo executives is completed.
Anglo Irish was the first Irish bank to seek a government bail out.
It ran into trouble after lending tens of billions of euros to property developers before the collapse of the property market.
A government rescue package eventually cost Irish taxpayers 30bn euros ($39.4bn; £25bn).
The bank was nationalised in 2009 and its affairs were taken over by the IBRC.
The banking crisis led to Ireland having to ask the International Monetary Fund and the European Union for a 85bn euro (£72.4bn) bail out in 2010.
At the height of his success, Sean Quinn was the 12th richest man in the UK and the richest in Ireland.