More mutual aid officers in Northern Ireland after rioting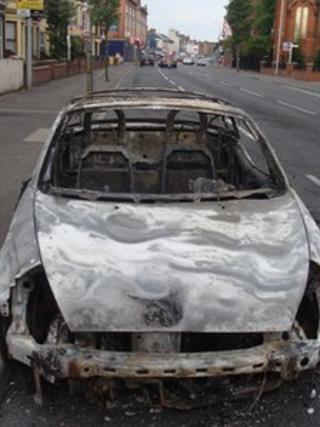 A further 300 mutual aid officers from other UK police services are due to arrive in Belfast later to help the Police Service of Northern Ireland.
It follows a fifth night of rioting in parts of Northern Ireland on Tuesday.
The disturbances started on Friday, after an Orange Order parade was stopped from returning along part of the Crumlin Road in north Belfast.
Police said 35 petrol bombs were thrown and six cars burnt out in Belfast and Newtownabbey on Tuesday night.
The new latest group of mutual aid officers brings the total number used over the 12 July period to 1,300.
The first group of 630 officers has already gone back to Britain. About 600 will remain in Northern Ireland when the new contingent arrives.
12-year-old arrested
Among those arrested on Tuesday night was a 12-year-old boy.
Assistant Chief Constable Will Kerr said: "A 12-year-old boy was arrested on the streets of Newtownabbey at one o'clock this morning for being involved in attacking the police," he said.
"Apart from the fact of how frighteningly irresponsible it is to allow a child of that age out onto the streets at that time of the morning, to allow them to engage in a riot just beggars belief."
Photographer attacked
Police also came under attack after large crowds gathered on the Newtownards Road in east Belfast.
Four cars were set on fire. A French press photographer was assaulted by rioters and had his camera stolen.
A car and moped were set alight on O'Neill Road, Newtownabbey, County Antrim.
Two petrol bombs and a number of other missiles hit a police vehicle in the area, but there were no reports of any injuries.
Police also deployed water cannon for a time in the Mount Vernon area of north Belfast after petrol bombs were thrown at police. A car was set alight.
Also in the north of the city, there were reports of disorder in the Woodvale Road and a number of petrol bombs were thrown at a police vehicle on the Whitewell Road.
Officers came under attack at North Queen Street with petrol bombs and other missiles.
A car was set alight in the middle of the road.
Police also responded to sporadic stone throwing incidents at a number of locations in south Belfast.
'Sporadic'
It's believed at least one petrol bomb was also thrown in the Blacks Road area and at least one paint bomb was thrown in the Kingsway area.
Police described the trouble as "sporadic pockets of disorder" and said the number of people involved in the disorder was lower than on previous nights.
The trouble in east Belfast began just before 23:00 BST.
Two of the cars were burnt out at Templemore Avenue at the Newtownards Road end, one on Templemore Avenue at the junction of Albertbridge Road, and one on Glenmore Street off Templemore Avenue.
There was also minor trouble in the Corcrain area of Portadown, County Armagh, on Tuesday evening.
A number of fireworks were set off by the crowd and a number of golf balls were thrown.
Around 20 loyalist protesters staged a white line protest while nationalists gathered nearby.
It ended after local councillors intervened and persuaded the group to move off the road voluntarily before police moved them.
On Monday evening, nine officers were injured when they were hit with masonry, during sectarian rioting in Corcrain Road, Charles Street and Park Road in the town.
Two of them were taken to hospital.
Police said officers had been attacked by both sides, as fireworks, bottles and golf balls were thrown from opposing crowds.
The unrest followed four nights of rioting in parts of the city after an Orange Order parade was banned from marching on a stretch of the Crumlin Road in north Belfast that separates loyalist and nationalist communities on 12 July.
In the five nights of trouble since then, 71 police officers - 68 PSNI and three mutual aid - have been injured, 62 people have been arrested (including seven on Tuesday), 51 plastic bullets have been fired by police and at least 125 petrol bombs have been thrown at officers.