Sammy Wilson criticises Ulster Bank for changing loan terms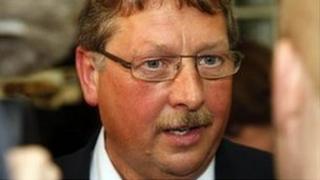 Healthy businesses are going under because a bank is changing loan terms, the Stormont finance minister has said.
Sammy Wilson said the Ulster Bank, and others, are making it impossible for firms to repay loans.
"They are seeking to find ways of quickly getting cash," he said.
"That very often means going after businesses which generate cash and trying to get that cash back quickly rather that allowing ways to work their way through the loans which they have."
One business affected is Donaldson and Lyttle in Belfast. The firm has been put into receivership but Chris Donaldson has said his company has been picked on because it is doing well.
Donaldson and Lyttle used to be a furniture shop on Great Victoria Street, but now let the building out to other businesses
Mr Donaldson took out a loan with the Ulster Bank to fund the company.
His firm was put into receivership because the small print of his loan meant the bank could demand full repayment immediately.
Like a lot of businesses, they took out a facility agreement, which means the repayment terms of the loan are agreed but can be renegotiated each year.
So rather than the 20-year term that had been part of the original discussions, the bank wanted the whole loan paid back after four years. Mr Donaldson was not able to do that.
He says there were some late loan repayments in 2009 when the building was still being filled, but he said he had kept up with all repayments since then.
Mr Donaldson said his company is making a healthy profit, and would not have had a problem repaying the whole loan if the original timescale had been stuck to.
He said: "We're being picked on because we've managed the business well. It's actually the good businesses that they are picking on because that's where the bank can get their money back."
Mr Wilson believes Mr Donaldson is not alone in being a profitable business that has had to stop trading because of the actions of the Ulster Bank.
"It is short-term and that puts businesses under pressure because suddenly their financial conditions change without any warning from the banks and it puts the business under so jobs are lost and the business which that would generate with the bank is lost as well," he said.
The Ulster Bank refutes the allegations and said: "We do not target healthy businesses for cash and assets. We are committed to working with customers who find themselves in difficulty and work with customers who engage with us to help them find a sustainable solution on a case-by-case basis."