Ballymena 'Boris Buses' prove too hot for some Londoners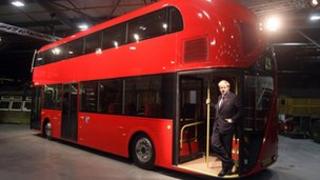 Some passengers on London's Ballymena-built 'Boris buses' have been suffering during the current hot weather.
Many have taken to Twitter to report uncomfortable temperatures inside some of the vehicles.
Transport for London have confirmed a number of buses are having technical issues with their ventilation.
Twenty-seven of the new buses, championed by London Mayor Boris Johnson, were recently delivered by Northern Ireland's Wrightbus.
The Boris buses, as they are known, are intended as a greener, more accessible successor to the famous London Routemaster.
The Ballymena manufacturer is contracted to build 608 double-deckers for London Transport.
Travellers have been taking to Twitter over the past week to vent their feelings about the situation.
Anna Maria Stubbs tweeted: "Never get on the 24 bus unless you want to faint, we were all slabs of crispy bacon dripping with oil about to be eaten".
Another passenger, Dan Timms, tweeted "@MayorofLondon new routemaster 24 buses have been nothing but a disappointment so far. On one now and heat is unbearable! Had to get off."
Some tweeters, including the Twitter account of The Recipe Shed, claimed people were fainting in the heat.
'Teething problems'
Chief Executive of Wrightbus, Mark Nodder, confirmed the Ballymena company is aware of a temperature problem on some of the buses.
Describing the introduction of the buses as a "teething period" Mr Nodder said the hot weather had highlighted a few short-comings.
He said the problem has affected a small number of buses, between six and eight vehicles.
Mike Weston, operations director for London Buses, said the company were resolving "technical issues" on some of the New Bus for London vehicles on Route 24.
"Our suppliers are working to fix the issue as soon as possible," he said.
"When the air chill system is fully operational we are finding temperature levels are comparable to other buses in our fleet fitted with a similar system.
"As you would expect with the introduction of a large fleet of new buses, there will be teething problems and we are working hard to minimise the impact of these on our passengers."