Kilkeel boat's crew members arrested in immigration inquiry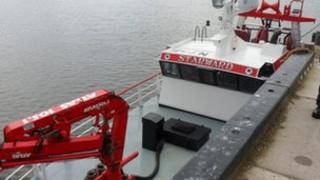 A County Down fishing vessel is at the centre of an immigration investigation in the north of England.
Four foreign nationals on board the Kilkeel trawler, the MFV Starward, have been arrested pending their removal from the UK.
The Newry-registered vessel was based in Kilkeel for the past five years, but recently moved to North Shields to fish the North Sea.
Immigration officers raided the boat last week and arrested the crew.
According to the UK Border Agency, four crew members, two Filipinos and two Indians - all in their 30s - appeared to be living on the boat without electricity or heating.
They were arrested for overstaying their visas.
The Home Office said they had been transferred to immigration detention pending removal from the UK.
Wallace Wilson, of the Border Agency's North East and Cumbria immigration enforcement team, said: "This was one of the more unusual operations we have carried out but shows there is no hiding place."
Peter Dade, who runs the North Tyneside Fishermen's Mission, said the four crew members were regular visitors. He said they did have power on board their vessel but like many foreign fishermen they enjoyed using the facilities of his centre.
"They did have facilities on the boat but they liked to use our shower, especially in the prawn season, as it was better than their own.
"I didn't get to know them really well, but I did speak to them when they were in. They liked to use the pool table, the internet and they'd phone home."
The skipper of the vessel, Gerry Lafferty, denied that the crew had no power or heating on board the vessel. He told BBC News NI that the boat was connected to an onshore power supply.
Negotiate
He added: "I did not see their visas, and I had no idea that the visas of the crew had expired. I just took it for granted that they were here under the usual arrangement and were on the standard one-month visas. I wasn't aware that they might have expired."
It is understood the Danske Bank in Belfast's Donegall Square is currently attempting to repossess the vessel. As a result, the MFV Starward has been served with a repossession order by an admiralty court which prevents it from leaving the port in North Shields.
Mr Lafferty said: "That is part of the problem. The boat is seaworthy but is not allowed to leave the port so she can't fish.
"I am trying to negotiate with the bank to hold on to the boat and have a proposal in with them at the moment."
A large number of fishing boats in the Northern Ireland fishing fleet are crewed by Filipino fisherman who have been granted transit visas to enter the UK.