Jamie Stevenson's parents say 'no blame' over school dog attack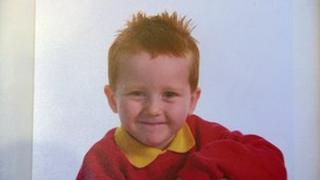 The parents of a little boy mauled by a teacher's pet dog have said they do not blame anybody for the attack.
Five-year-old Jamie Stevenson suffered serious facial injuries after he was attacked by the dog at his Ballymena school last Friday.
The doctor treating him said it may take until the age of nine for the boy to fully recover from his injuries.
Jamie's father Darwin Stevenson said his son was "in good form".
"He's home and he's coping very well with his injuries," Mr Stevenson said.
"All he says is that his face is stingy and we haven't allowed him near any mirrors to let him see his injuries by himself."
Jamie's mother arrived at the school following the incident and the child was transferred by ambulance to Antrim Hospital.
"My wife hadn't explained to me how bad Jamie was, she didn't want to tell me over the phone until I arrived at the hospital," Mr Stevenson said.
"I initially thought maybe Jamie was bitten on the hand or bitten on the leg.
"I was completely devastated whenever I saw my wee boy on the hospital bed, just the fact that he was so wee and the injuries - he had lots of deep wounds to the side of his face, his cheek and just below his eye."
'Terrible freak accident'
Mr Stevenson said his son is now doing very well.
"Since he came home on Saturday he hasn't complained once," he said.
The Stevensons had been "more than happy" about the teacher's dog visiting their son's school.
"They were talking about it during a cup of coffee beforehand and Jamie was so excited about getting in to school to see the dog," he said.
"I can't blame the teacher and I don't want to blame anybody for it. It was just a terrible freak accident, it could have happened to anybody. Unfortunately it happened to my son, but there was nobody to blame for this."
The teacher and the school's headmaster visited Jamie in hospital and are keeping in touch with the family.
"His headmaster, Mr Ross, has phoned us every morning to see how Jamie is and his teacher and his classroom assistant are coming back to see him on Thursday," Mr Stevenson said.
"Family and friends have been very good."
'Full recovery'
However, Mr Stevenson said he feels very unhappy that the family have not had any support from their local MLAs or councillors.
"They could have rung and explained that they were concerned about Jamie, but nobody has, not one and they still haven't to this day. There hasn't been one contact from any council member or MLA to our family," he said.
Mr Stevenson told BBC Radio Ulster's Evening Extra that it would have meant a lot to the family to know that there were people on the council thinking about them.
"What disappointed me more was people giving press releases and speaking to the papers and they've never met Jamie, they've never asked how he was, they'd never came to see Jamie, and they were giving releases to say they were wishing Jamie a speedy recovery.
"To me they should have been here to see how Jamie was."
Despite his son's ordeal Jamie's father is confident his son will pull through.
"Jamie's a strong wee boy, he's got a good strong family and I think Jamie will make a full recovery, he'll be 100%."