Bishop McKeown 'lost plot' says DUP leader Peter Robinson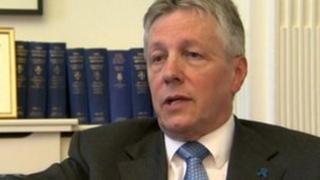 First Minister Peter Robinson has said that Catholic Bishop Donal McKeown has "somewhat lost the plot".
Bishop McKeown said the DUP leader had implied the Catholic Church was blocking moves on integrated education.
The bishop said the DUP's stance was perceived as "nakedly sectarian" by the Catholic community.
But Mr Robinson said: "How anybody who is looking for shared education can be seen to be sectarian is beyond me and beyond everyone else."
In an interview for Radio Ulster's Sunday Sequence, Bishop McKeown claimed that Mr Robinson had suggested that "certain vested interests, by implication the Catholic Church, were the ones who were blocking movements towards that (integrated education)".
"That certainly was perceived in the Catholic community as nakedly sectarian - talking about reconciliation, but ultimately saying the fault is with the Catholics, they really are the ones who are to blame and, specifically, the Catholic Church," the bishop added.
"I suppose at the present time, kicking the Catholic Church really won't lose you too many votes in many places."
Bishop McKeown is not the first senior clergyman in the Catholic Church to criticise Mr Robinson's stance on integrated education.
In 2010, the leader of the Catholic Church in Ireland, Cardinal Sean Brady, said the DUP leader had created "distrust and suspicion" by describing the Northern Ireland education system as a "benign form of apartheid".