Tassagh double murder: Fourth Smith brother denies murder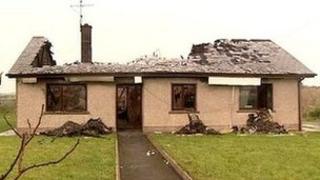 A County Armagh man has pleaded not guilty to a double murder with which his three brothers have already been charged.
Christopher Paul Smith, 33, formerly of Mourneview in Mowhan, with an address in Dublin, also pleaded not guilty to arson with intent to endanger life.
He is accused of the murders of Thomas O'Hare and Lisa McClatchey in 2006.
The couple were beaten with hammers by a gang of masked men before their house was set alight.
They both later died from their injuries following the attack in their home on Foley Road near Tassagh, County Armagh.
On Friday, Christopher Smith's defence lawyer did not object to him being joined to three of his brothers on an indictment with identical charges.
Niall Smith, 37, and Stephen Smith, 29, of Mourneview, Mowhan, County Armagh and Martin Smith, 40, with an address at Kevlin Glen, Omagh, County Tyrone, have all pleaded not guilty to the double murders and arson attack.
All four brothers deny the charges. They are all in custody and their trial is listed to start on 4 November 2013.