Merkel: Anglo Irish bank tapes contemptible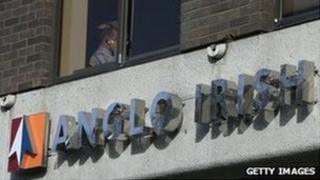 The leaked Anglo Irish Bank telephone conversations are damaging democracy, German Chancellor Angela Merkel has said.
Bank executives are heard on the tapes mocking Germans and making jokes about the financial crisis in Ireland.
Angela Merkel told journalists on Thursday that she regarded the contents with contempt.
On one tape, an Anglo executive is heard singing Deutschland, Deutschland über alles.
The taped calls, dating from September 2008 when Anglo Irish was on the verge of collapse, were leaked by the Irish Independent newspaper.
'Huge challenge'
Speaking in Brussels following an EU leaders summit, Chancellor Merkel said the recordings were "damaging democracy, the social market and everything we strive for".
"I have nothing but contempt for this. The tone seems to be similar across all the banks," she said.
"It is for us a huge challenge to convince people who get up every day and every day do their work and always pay their taxes, do everything, even show solidarity with other people who are weaker.
"All of this is destroyed by that and so I have nothing but contempt for that."
The two bankers whose call was recorded by Anglo's phone and security system, have issued statements denying they were part of a strategy to mislead the Central Bank saying they knew of no such effort.