Tongues of Fire: How Pentecostals are Changing the Church
By Robbie Meredith
BBC News NI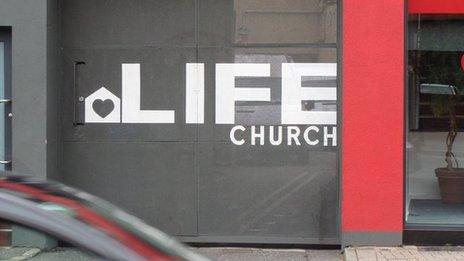 "The movements that God gave me I can split my legs and I wear really tight fitting clothes, but nothing's ever shown. Your belly never comes out, your chest is covered."
"I'm not going to start dancing with a thong up my bum."
Natalie Robinson is young, blonde and a dance teacher.
She dances to worship God as a member of the fastest growing Christian denomination in the world, and one that I've been exploring for a new BBC Radio Ulster documentary.
Natalie attends Exchange Church on the Albertbridge Road in the heart of East Belfast, just one of the many independent Pentecostal and Charismatic churches spreading across Northern Ireland.
The numbers of believers attending these churches locally is small - around 15,000 people, just under one per cent of the population, according to the 2011 census - but the global spread of these churches is, in the words of Dr Gladys Ganiel from the Irish School of Ecumenics, "staggering."
"According to research by the World Christian Database, it's estimated at about 584 million people worldwide," she says.
"If you take it as a total of the Christian population, that's about a quarter, maybe up to 26 per cent."
The word 'charismatic' derives from the Greek for 'gift', and these churches all share a common belief in a post-conversion experience where believers are "filled with the Holy Spirit", receiving spiritual gifts like speaking in tongues, prophecy or the ability to pray for God's healing.
Speaking in tongues is the best known of these gifts, but also one of the hardest for non-churchgoers to understand.
Pastor James McConnell of Whitewell Metropolitan Tabernacle, says that's it a kind of private prayer language.
"Sometimes our English language is not enough and out from inside us comes this well of water and we start speaking in this language that only the Holy Ghost and only God knows," he says.
People speaking in tongues, their hands raised and eyes closed as they worship God, can be a strange sight if you haven't experienced it before, but Asman, who attends the Vineyard Church in South Belfast, sees it as a normal part of Christian life and says his 10-year-old son can pray in tongues.
"God gives you a gift in your heart to be able to pray to him without using your normal everyday language - it makes prayer a lot easier."
Another feature of many Pentecostal and charismatic churches is the vibrant, loud worship.
At Green Pastures Church outside Ballymena, which holds almost one thousand people, a 10-piece band leads the congregation in song after song, using guitars, keyboards and drums, while neon lights flash and big screens relay spiritual messages.
The scene, and sound, was similar at Life Church, close to the Dublin Road in Belfast City Centre.
Pastor Owen Crane said that the use of rock-style music there has a definite purpose, although the words used praise God.
"We try to flip between the style of the Killers and Kings of Leon to Mumford and Sons, and that's done very deliberately," he says.
"Everything we're trying to do on a Sunday morning or Sunday evening's trying to engage with an unchurched audience."
And then at Exchange church Natalie leads her team of dancers as part of the Sunday service there.
In my whirlwind tour of services, prayer meetings and worship schools I detected warm, welcoming but tightly-knit communities who felt a very close relationship to God.
However, some Pentecostal and charismatic churches and fellowships have run into problems - and even huge scandals - in the past because of their independent structure, which gives a lot of power to their leaders.
Professor Drew Gibson from Union Theological College in Belfast has studied the history of the growing movement.
"Any structure in which there is a pyramid with one person at the top is a very dangerous structure."
"Those groups where there were problems either fell apart or developed accountability structures where it wasn't one person at the top but a corporate leadership."
My journey through the movement in Northern Ireland was only a snapshot, but there's an energy and informality to the churches which is proving especially attractive to younger Christians.
And given their strong evangelistic impulse, It seems certain that in the near future, you'll find a Pentecostal or charismatic church starting up on a street near you.