Paul Girvan responds to flag burning comment criticism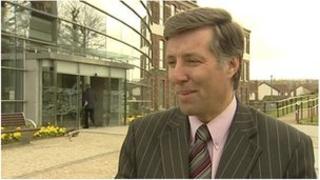 A DUP MLA has responded to criticism against his comment that he had "no problem about burning of a tricolour on top of a bonfire" during an interview.
Speaking on Frank Mitchell's show on U105 Paul Girvan initially said he was "not going to make any apologies" for the burning of a "flag from a foreign country".
Other political parties have criticised the comments made by the MLA.
Mr Girvan has now issued a statement responding to the criticism.
During the interview Mr Girvan said: "I come from a society that this is part of their culture to have an 11th night bonfire and what goes into that bonfire is important
"Also some people feel it is perfectly alright to put the flag of a foreign nation, which actually at one time claimed that they had some right over Northern Ireland," he said.
"I've no problem about burning of a tricolour on top of a bonfire let's be honest. I'm not going to make any apologies for that. That is the flag of a foreign country as far as I'm concerned."
'Dismayed at the comments'
Fellow south Antrim MLA David Ford criticised the remarks.
"I'm dismayed at the comments Paul Girvan has made. It is unacceptable to burn any flag no matter what country it represents," he said.
"As we seek to have a peaceful summer, tensions should be kept to a minimum.
"People are entitled to celebrate their culture, however they should not seek to offend others.
"Politicians have a responsibility to show leadership and set an example. I believe his comments fall well short of what is expected from an MLA."
In a statement released on Thursday afternoon, Mr Girvan responded to the criticism.
"I have made it clear that the burning of flags can be seen as provocative by those who would hold these symbols dear and I want to see a reduction of this activity. This includes when unionist or loyalist flags are placed on republican bonfires," he said.
"We must recognise that 11th night bonfires are an important cultural tradition and if people feel these kind of expressions are under attack it can actually lead to an increase of incidents where flags and other emblems are burned.
"I do not encourage anyone to burn flags of any country and will happily work to reduce the incidence of this just as I was happy to help achieve a positive outcome in terms of the location of the bonfire in Ballyduff.
"Hopefully all those who have rushed simply to issue condemnation will be as clear in their support of the right to celebrate the cultural tradition of 11th night bonfires."