Gay and lesbian adoption: Edwin Poots' challenge dismissed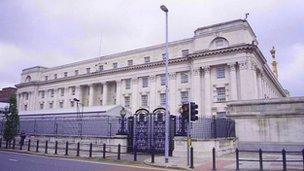 The Northern Ireland Human Rights Commission (NICHR) has welcomed a Court of Appeal ruling that paves the way for gay and lesbian couples to adopt children in Northern Ireland.
At present a single gay or lesbian person can adopt children in NI, but a couple in a civil partnership cannot.
The NIHRC said the ruling would bring NI into line with the rest of the UK.
Moves to allow gay couples to adopt had been on hold while the court heard an appeal from Stormont's health minister.
Edwin Poots had brought the legal challenge after an earlier decision by Belfast High Court that ruled the current adoption ban on gay and lesbian couples was unlawful.
Lord Justice Girvan said the department of health had put forward "no justification to exclude same sex couples as parties eligible to adopt as a couple."
He also said that there was no proper explanation why same sex partners were deemed ineligible once they publicly cement their relationship.
"This cannot provide a rational basis or justification for the differential treatment of those in a civil partnership compared to same sex couples outside a civil partnership," he said.
The judge also expressed regret that until recently the department's website failed to give correct advice on the issue.
The challenge to existing legislation was mounted by the NIHRC. The commission was backed by an unidentified lesbian woman who wants to be able to adopt her partner's biological child.
The women, who have been in a relationship for four years, also wish to enter a civil partnership.
Unmarried couples in England, Scotland and Wales can apply jointly to be considered for adoption, irrespective of sexual orientation.
But anyone unmarried in Northern Ireland is currently only eligible for consideration as an individual.
Those in civil partnerships cannot apply either individually or as a couple.
NIHRC chief commissioner, Professor Michael O'Flaherty, said: "Through this case the commission has protected basic human rights and the best interests of the child.
"For children who are in need of a family in Northern Ireland, the importance of this case in widening the pool of prospective parents cannot be overstated."
'Discriminatory practice'
Prof O'Flaherty added that the appeal ruing meant "couples who are not married, those in civil partnerships and same sex couples will now be allowed to apply to be considered as adoptive parents".
"The court has agreed with the commission that preventing someone from even being considered to adopt because of their relationship status is a discriminatory practice," he said.
Sinn Féin MLA Sue Ramsey called the ruling "a welcome decision for equality and against discrimination".
"Any further appeals would be foolish in the extreme and waste more public money," she said.
Alliance Health spokesperson Kieran McCarthy MLA called on Mr Poots not to take further legal action.
"There are too many children in our social care system for us to be preventing certain couples from adopting," he said.
TUV leader Jim Allister said the decision was a "most retrograde step".
"This is where pursuit of a perverse 'equality agenda' has led us," he said.
"I trust the minister will appeal this decision to the supreme court."
John O'Doherty, director of The Rainbow Project, said the Court of Appeal ruling was a "great day for the rule of law in Northern Ireland".
"There has now been clear direction from the Court of Appeal that the current unlawful ban cannot be allowed to continue.
"No longer must same sex couples have to choose between entering a civil partnership and becoming adoptive parents to a child who needs them," Mr O'Doherty added.
Following the decision a barrister for the department indicated that a further appeal to the Supreme Court in London may be sought.