Nigel Dodds calls on SDLP to withdraw 'bigots' remark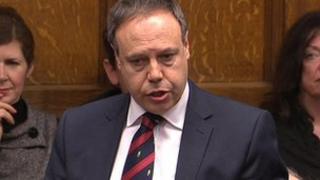 DUP MP Nigel Dodds has called on SDLP leader Alasdair McDonnell to withdraw a claim that the DUP are "bigots".
Alasdair McDonnell made the claim during a debate in Westminster on the Northern Ireland Bill.
The comment came in the Commons chamber after the DUP's Jeffrey Donaldson asked why the SDLP had supported naming a playground after an IRA hunger striker.
In his reply Mr McDonnell said: "The DUP are bigots and they want to drive a wedge through our society."
The remarks provoked a rapid response from DUP MPs including the North Belfast MP Nigel Dodds.
He argued that the words were not appropriate parliamentary language.
Deputy Speaker Lindsay Hoyle said: "Bigots is a very strong word and I am sure honourable members never judge each other like that."
The South Antrim MP Willie McCrea said the remarks by the SDLP politician were "a smear".
The North Belfast MP Nigel Dodds also said the comments of the SDLP leader were "intemperate and confused".
The DUP deputy leader also questioned recent moves by the SDLP.
He said the SDLP had supported a motion in Dungannon calling for the early release of Gerry McGeough and more recently had supported the behaviour of Gerry Kelly in North Belfast last Friday.
The DUP MP said: "These incidents point to a confused and bewildered state-of-affairs inside the SDLP under Dr McDonnell's leadership."
In response, Alasdair McDonnell said: "Rather than engage in tit-for-tat politics, those in positions of political leadership need to break the cycle of bad politics. They cannot stand as peacemakers with world leaders one week and act as corner boys the next."
The South Belfast MP added: "There is an opportunity for leadership on all sides to stop distracting from, and to start dealing with, the difficult issues that face us - parades, flags and the past.
"While other parties engage in party political point scoring, the SDLP remains firmly focused on moving all of our society, not one side or the other, firmly forward".