Gerry Kelly Land Rover incident raised in assembly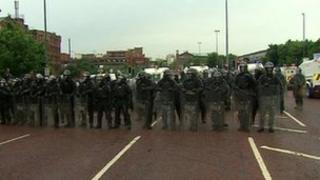 The incident involving Sinn Fein's Gerry Kelly being carried on the front of a police Land Rover has been raised in the Northern Ireland Assembly.
DUP MLA Gregory Campbell said the assembly should check what it could do to investigate Friday night's incident.
He described it as appearing to be the "attempted physical impeding of a police officer carrying out his duty".
The TUV leader Jim Allister accused Mr Kelly of "loutish" behaviour.
The Speaker, Willie Hay, said he had already turned down discussing the matter in a short topical debate.
He said if there were further procedural matters, MLAs should refer to either the business or standards and privileges committees.