Teenage Kicks lyrics mural removed from Belfast flyover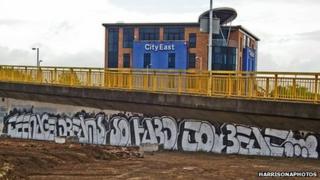 A mural of lyrics from a song by Northern Ireland band The Undertones has been removed from a flyover in Belfast by the Department of Social Development (DSD).
The lyrics "Teenage dreams, so hard to beat" were from the band's debut single Teenage Kicks.
The song rose to prominence in 1978 when BBC Radio 1 DJ John Peel played the song twice in a row on his show.
DSD have said they will look at funding the cost of a new mural.
Mr Peel went on to describe the song as his favourite and requested the quotes be put on his headstone.
He passed away in 2004 and the mural appeared on the flyover the day after he died. In 2008 a headstone engraved with the lyrics was placed on his grave.
It was put up by the T.D.S Graffiti Crew in east Belfast and one of their members said he was pleased it had lasted for nine years.
"It grew far bigger than it was ever intended, but that is down to the lyrics and what they stand for.
"With anything that can disappear, it can reappear."
Undertones bass player Michael Bradley tweeted: "So the John Peel graffiti removed in Belfast. Undertones now going to paint over the DSD building. Call the Outcasts!"
Backlash
The mural had become a landmark on a main arterial route into east Belfast.
In a statement, DSD said they were currently undertaking a £300,000 improvement scheme in the area.
"We do not remove graffiti as standalone issue. However, we will always remove graffiti, after consultation, as part of any scheme if it falls within a scheme area.
"Community representatives from the area have made initial contact with the department to develop a proposal to bring together teenagers from the Short Strand and Newtownards Road area to design alternative community art work in this location."
Sinn Fein councillor and former Lord Mayor Niall Ó Donnghaile said he could understand the backlash to the move on social media.
"People are gutted, I'm a bit gutted myself - we have all felt a bit of an affinity with the graffiti and it is in the spirit of the song.
"I have a responsibility as a public representative to respond and people have come to me and said they are unhappy," he said.
"I have spoken to the council and the department and we are going to trying to get young people from the Short Strand to replace it with something else."
Terri Hooley, the founder of Good Vibrations record shop and the man behind the recording of Teenage Kicks, said he was surprised.
"I'm actually stunned - I can't believe it - they keep all the sectarian graffiti in this city.
"This does not reflect the city I adore and love. We want to represent the positive, celebrate the rich musical history we have."
Hairdresser Paul Stafford has also called for the graffiti to go back up.
"It's an iconic piece of Belfast arts and culture and it seems like such a strange move in a year when a film like Good Vibrations is positively representing the scene here."
On Twitter, Belfast-born songwriter and performer Duke Special said he was disappointed by the move.
"The one slogan that makes you smile as you are entering east Belfast and they paint over it."