New route for Ballymena's new 'Boris bus'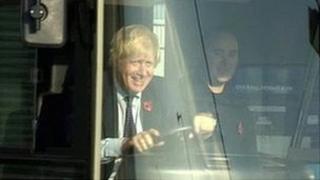 The first London bus route to use only the new County Antrim-built 'Boris buses' will be launched on Saturday.
Twenty-seven new driver-and-conductor buses, championed by London Mayor Boris Johnson, will operate between Hampstead Heath and Pimlico.
The buses, made by Northern Ireland company Wrightbus, are intended as a greener more accessible successor to the famous London Routemaster.
The company is contracted to build 608 double-deckers for London Transport.
Route 24, the Hampstead Heath-Pimlico route, is used by 28,000 passengers each day.
Mr Johnson has described the Wrightbus double-decker as the "cleanest and greenest bus in Europe".
"All the way from Hampstead Heath to Pimlico, Londoners can now hop aboard the world's cleanest, greenest bus of its type," he said.
Eight new buses have already been running run for some months on route 38 which runs from east London to the city centre.
The last regular-service Routemaster ran in December 2005, although some still operate on tourist routes in London in addition to existing services.