Music City: Londonderry hosts day-long celebration of musical culture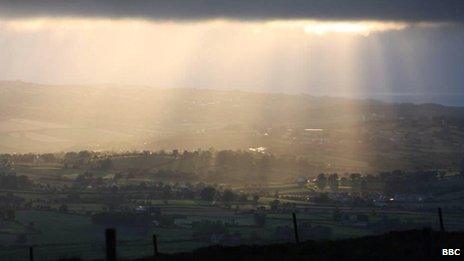 A unique day-long celebration of music is under way in Londonderry.
Music City is one of the biggest events in the UK City of Culture programme.
Concerts, festivals and performances are taking place from dawn on Friday until dawn on Saturday.
The celebrations began with a dawn chorus at an ancient stone fort in County Donegal, and were followed by the Sky Orchestra - seven hot air balloons that played music as they floated above the city.
The BBC's Conor McKay watched the sun rise from Grianan fort.
"Hundreds of people were there, and regardless of your beliefs or philosophy, just to stand on that ancient site with so much history below your feet and think about the people who might have welcomed the summer solstice... it was a very special occasion.
"The music was reverberating around the stone walls and we were blessed, because the sun just burst through the clouds at the right moment and everybody rushed through the narrow stone entrance to get the photos.
"It was really beautiful."
The Deputy First Minister, Martin McGuinness, was also at the early-morning performance.
"It was absolutely amazing to be at our beloved Grianan of Aileach at four o'clock this morning with hundreds of other people from Derry and County Donegal.
"It was absolutely fantastic, a really memorable morning with a beautiful sunrise," he said.
The Chief Executive of the Culture Company, Shona McCarthy, was a passenger in one of the Sky Orchestra hot air balloons.
"I was in the most colourful balloon, and I was with the mayor, and we were just looking out over the city.
"People were coming out of their homes in their dressing gowns and their slippers and waving up.
"We were sending the dogs crazy, I think it was a dogs chorus as well as a dawn chorus - it was just absolutely wonderful," she said.
Other highlights of Music City include a mass recording of Danny Boy, an orchestra made from old sewing machines, and a taster of Fleadh Cheoil na hÉireann, a festival of traditional music that will take place in Derry in August.
"We've got the Neil Cowley Trio in St Augustine's Church, we've got the amazing Buena Vista Social Club in the Venue tonight, there are stages all over the city, there are kids performing, there are buskers," said Ms McCarthy.
"It's just going to be a wow day. Don't stay indoors!"
The BBC will be broadcasting from Music City throughout the day - full details are available on the BBC Radio Ulster website.