Edwin Poots went against civil service advice on health centres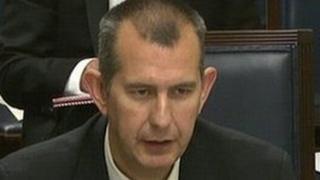 Health Minister Edwin Poots has gone against the advice of his most senior civil servant, it has emerged.
Mr Poots ordered that two proposed health centres should be developed by the private sector.
This was despite a business case that pointed towards a publicly-owned asset.
The news emerged when Andrew McCormick, Permanent Secretary at the Department of Health, appeared before the assembly health committee at Stormont.
Mr McCormick confirmed that he had been directed to seek private finance to develop the new health centres, in Lisburn, County Antrim, and Newry, County Down.
He described the move as an "experiment" but rejected SDLP MLA Conall McDevitt's characterisation of this as "gambling."
Ministerial directions are infrequent and issued when a decision is taken that does not offer the best value for money or outcome for the taxpayer.
Mr McCormick said the minister was within his rights to take the decision but Mr McDevitt told the BBC that this was contrary to the financial rules and a recent vote against privatisation in the assembly.
He said these centres should remain within the ownership and control of the National Health Service (NHS) as this offered the best outcome for governance/oversight, propriety and value for money.
The new health centres are part of the Transforming Your Care strategy and are to be integrated into social care provision in large towns.