David Cameron says Enniskillen G8 'one of most peaceful'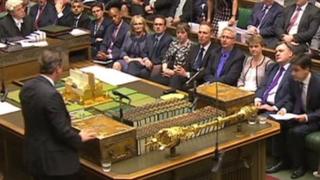 The prime minister has said that because of the G8 "the whole world" could see what a great place Northern Ireland is.
David Cameron told MPs that all the leaders told him how pleased they were to be there and how impressed they were by progress made in the peace process.
And he revealed he sent each of them away with a bottle of Bushmills whiskey "to enjoy when they get home".
The Labour leader Ed Miliband joined in the praise.
He commended Mr Cameron for holding his summit in Enniskillen saying it would have been "unthinkable" 15 years ago.
Mr Miliband added: "Peace has transformed Enniskillen and the location of this summit alone is testament to what can be achieved through politics and dialogue and a credit to all of the people of Northern Ireland."
The prime minister began his Parliamentary statement on the G8 saying: "Northern Ireland put on its best face and the whole world could see what a great place it is.
"Not only was it a very successful conference and very well managed and run, I think it was also one of the most peaceful G8s in terms of demonstrations.
"It was rumoured that at the place where all the tents were going to be put up, one of the six tents there I think were some Dutch folk who happened to be on holiday.
"And I also read this morning that one of the hopeful shopkeepers in Enniskillen had stocked up on vegan meals only to find that the protesters didn't really turn up in large enough numbers so now has a large supply going spare.
"So I do think it is a remarkable part of our country and it was really great I think to bring the G8 to County Fermanagh."