Ulster Bank to sell and lease back two main properties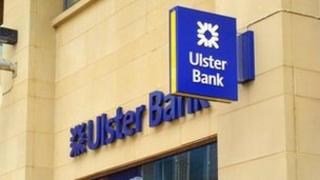 Ulster Bank is to sell and lease back its main Belfast properties at Donegall Square and Danesfort.
Ulster Bank's parent company the RBS Group will take on the leases.
The city branch, which also forms its NI headquarters, is valued at £19.4m. They are planning to lease it for 15 years for just under £1.5m annually.
The Danesfort offices on the Stranmillis Road are expected to raise over £8m and will be rented back on a 10-year lease for £783,000 annually.
Ulster Bank is also selling and leasing back its bank at College Green in central Dublin.
Agents selling the branch, which was built in 1891, are seeking offers over 10.75m euro (£9.22m).
Royal Bank of Scotland (RBS) will then take on a 10-year lease of the building at an annual rent of 840,000 euro (£719,000).
Both Allied Irish Bank and Bank of Ireland have already completed the sale and lease-backs of substantial parts of their branch networks and headquarters.
Since 2007 there has been a rise in corporate sale and lease-backs. For banks they represent a way of securing capital at a time when cash is highly sought after.
It enables corporate bodies to raise capital through the business but, unlike a loan, it does not have to be paid back.
The move comes as RBS's future is being considered by the Parliamentary Commission on Banking Standards.
In February, Ulster Bank reported losses of more than £1bn for 2012, a slight increase on the previous year.
It came as the bank's parent group confirmed losses of more than £5bn for 2012.