Alex Attwood in warning over illegal car parks near airports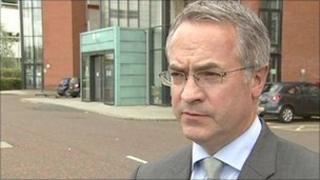 Environment Minister Alex Attwood has said there should not be a car park "free-for-all" near Northern Ireland's airports.
The Department of the Environment is challenging the legality of some sites around Belfast International Airport.
Last week, Karl Airport Parking, was ordered to cease trading at its site, by the Planning Appeals Commission.
Mr Attwood also said airports needed to address their own car parking charges.
He said: "I agree that the international airport and the City airport have to do more in making sure their car parking tariffs are fair and reasonable, but what about the people who live up near the airport?"
He said that "if you end up with a free-for-all with a car park in every field, left, right and centre of the international airport" it would also have an impact on the services that the airport would be able to offer.
Karl Airport Parking made a retrospective planning application to operate the park and ride facility in 2007. This was rejected.
An enforcement notice was issued against the company last year by the planning authorities for "unauthorised use of land for car parking for users of Belfast International Airport".
This enforcement notice was appealed by the car park owners.
It has invested in a floodlit parking area with perimeter fencing that is covered by CCTV for 24 hours a day, seven days a week.
The Planning Appeals Commission heard seven points of appeal last week but they were all rejected and the enforcement notice was upheld.
The facility must now close by 30 June but Karl Airport Parking are contesting the decision.