Colour-coded healthier food labelling on way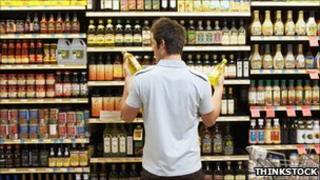 A new labelling system will help people in Northern Ireland make healthier choices on the food they eat.
The system is colour coded red, amber and green, with red the least healthy and green the most healthy choice.
Local manufacturers will join major UK retailers in supporting the system.
Health Minister Edwin Poots said: "Steps like consistent food labelling are vital in encouraging healthier lifestyle choices."
He added: "Obesity continues to be one of the most important public health challenges facing Northern Ireland.
"The new label will allow people to see at a glance what is in our food and help us to make small changes to our diets that could have a big impact on our health and could stop people getting serious illnesses - such as type 2 diabetes, heart disease and cancer - later in life."
The new, universal front of pack label will be recommended best practice across the whole of the UK.
It has reference intakes - formerly known as guideline daily amounts - to show how much fat, saturated fat, salt and sugars, and energy are in food products.
Gerry McCurdy, director of the Food Standards Agency in Northern Ireland, said: "This is fantastic news for local consumers who can get confused by the variety of labels that are currently on our food.
"They will be able to make healthier choices about what they eat and drink, regardless of where they shop.
"We all have a responsibility to tackle the rising tide of obesity, including the food industry. By having all major retailers and manufacturers signed up to the consistent label, we will all be able to easily see what is in our food."
Northern Ireland firms Moy Park and Mash Direct are among the first to participate in the new scheme.