G8: 'Explosive device' found near Enniskillen summit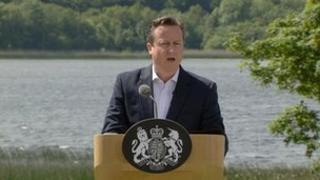 An "explosive device" found near the G8 summit venue was a remnant of the Second World War, David Cameron has tweeted.
It was discovered during a security sweep of Lough Erne days before world leaders arrived in the UK.
The two day summit was held at the Lough Erne resort in Enniskillen, County Fermanagh.
And the relic - which has since been defused - gave the Prime Minister an excuse to first shock and then tease some of the globe's most powerful politicians.
As the eight sat down for dinner last night he first informed them a bomb had been found - before quickly reassuring them it was not a terror threat, Downing Street revealed.
Finger of blame
And with German Chancellor Angela Merkel among those sat around the table at a luxury golf resort bn the waterside, he started a guessing game as to whose country was responsible.
Other guests included the leaders of Russia, Italy, Japan, France and Canada.
The finger of blame eventually settled not on Mrs Merkel's countrymen but those of US President Barack Obama.
The mortar was found to be American, probably fired from a practice range the US had nearby at that time.
"Now #G8UK is over I can reveal a bomb was found in Lough Erne," Mr Cameron said via his Twitter feed as the summit closed.
"It was American from WW2. Apparently they had a practice mortar range here!"