Newtownabbey man charged over meat cleaver threat to paramedics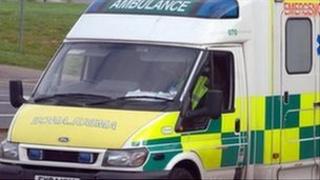 A man has been charged after an ambulance crew was allegedly threatened with a meat cleaver in the Ballyduff area of Newtownabbey, County Antrim.
They had been called to a house at Ravelston Way on Tuesday.
The man had been verbally aggressive to the paramedics before walking away and returning with the meat cleaver.
An 18-year-old man has been charged with common assault and possession of an offensive weapon with intent to commit an indictable offence.
He is also accused of two counts of breaching an anti-social behaviour order.
The ambulance service said the paramedics had tried to convince the man to go to hospital, but he became aggressive before leaving the house and pacing the driveway and garden.
As the crew talked to his mother, he returned with a meat cleaver moving it in circles as he approached the crew.
The paramedics got into their ambulance and called the police. Officers arrived and arrested the man.