Attwood brings in new planning rules to promote tourism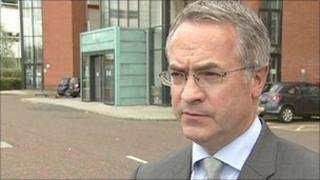 The environment minister has introduced new planning rules which he says will make it easier for developers to build in the Northern Ireland countryside if it promotes tourism and jobs.
Alex Attwood outlined his plans in the assembly, promising flexibility for exceptional, high-quality projects.
He said this would underpin targets to double tourism income to £1bn by 2020.
"This is not a free-for-all of tourist development in settlement areas and rural locations," Mr Attwood stressed.
"This is a pathway for the provision of sustainable and high-quality tourism developments."
He said Planning Policy Statement (PPS) 16 would bring forward clearer, more flexible planning policy, creating more opportunities for tourism.
The key changes in the policy include:
the inclusion of an exceptional circumstances policy so that unique proposals for a major tourism development project in the countryside can be approved
the removal of the requirement for an applicant to demonstrate "need" for tourist accommodation in the countryside
holiday/caravan park sites in the countryside no longer need to be within the Development Plan, as required by Draft PPS 16
expansion of the Draft PPS 16 provisions for hotels to now also include proposals for guest houses and tourist hostels in the countryside
Geoffrey Chestnutt, of Caravan and Camping Forum for Northern Ireland, said he welcomed the recognition of the importance of the holiday parks industry to Northern Ireland's economy.
"DOE Planning's engagement with the industry was instrumental in framing policies which should provide the flexibility to allow sustainable park development," he said.
"Northern Ireland's economy benefits from the business generated by over 120 holiday and touring parks, which provide a market for local goods and services as well as jobs, both on parks and in their host communities."