G8 summit: Angela Merkel becomes lady of the Fermanagh lake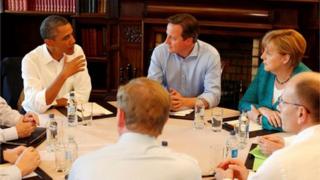 She is the only female leader at the G8 summit and is well used to high-powered meetings with men in suits.
But on Monday night, German Chancellor Angela Merkel took on a new role - the lady of the lake.
Mrs Merkel took a boat trip across Lough Erne, in County Fermanagh, as she cruised from the hotel hosting the G8 to speak to German media at the Manor House Hotel, near the village of Killadeas.
The late-night excursion took place after a working dinner at the G8 summit at the Lough Erne resort.
Mrs Merkel, escorted by armed police in high-speed patrol boats, arrived at the hotel just after 23:00 BST.
She was met by the hotel manager, David Begley, and then spent almost an hour giving an off-the-record briefing to German media.
Only certain German journalists, who are staying at a hotel in County Monaghan in the Republic, were made aware of the trip.
However, BBC Northern Ireland reporter Kevin Magee was there, following a tip-off from a colleague.
He drove out to the Manor House Hotel, which is about 12 miles from Enniskillen, and said there were "tell-tale signs" of something going on with police stopping traffic.
Our reporter, the only Northern Ireland journalist there, was standing in the foyer of the hotel as Mrs Merkel walked in.
"I asked her if she was enjoying her trip to Northern Ireland," he said.
"She didn't really answer me. She was very, very businesslike. She stayed in the hotel for 45 minutes. She had her photograph taken on the way into the hotel.
Cameron's dip
"She had a glass of white wine. She expressed some surprise to the German journalists that they were actually staying in the Republic of Ireland while the G8 is being held in the UK.
"She said goodnight on the way out."
Mrs Merkel - the only woman other than Margaret Thatcher to have ever chaired a G8 summit - then sailed back on board the Lady of the Lake, the name of which drew approving comments from the German journalists.
And she has not been the only one to take advantage of the water at the G8 leaders' disposal, with UK Prime Minister David Cameron enjoying a dip in the lough before getting down to work on day two of the summit.
Other swimmers reported that water temperatures were invigoratingly chilly, though not unpleasant, the Press Association news agency said.