Mel Davison Construction: Workers 'laid off' says union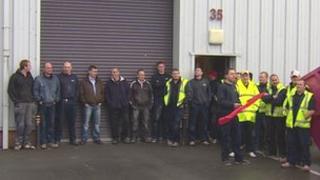 About 150 workers have been laid off by a company working for the Northern Ireland Housing Executive, according to a union.
NIPSA said the affected employees of Mel Davison Construction were based in parts of Belfast and in the Craigavon/ Portadown area.
Repair work has ceased on executive homes in the areas, it said.
Workers have been protesting at the firm's west Belfast site. Management said they had no comment to make.
About 50 workers have said they will stay at a site on the Shankill Road, until they get answers from management.
They said when they arrived at work on Monday, they were told to leave.
Stephen Fitzpatrick from the Unite union said workers were very unhappy.
"The workers are really upset. They don't know whether they are coming or going," he said.
'Pay packet'
"They have no security, they don't know where their next pay packet is coming from.
"We would like answers from the company. It's happened before, there's been 20 people laid off before, in January. They said they had no money. We had to get the union involved. They stood by us and got us our jobs back.
"Again, the union are involved today and we would like to get this resolved."
The BBC understands that the company is not currently providing a service to the Housing Executive.
The Housing Executive is putting in place arrangements to provide an emergency service to tenants in the areas affected.
When the BBC contacted the company, they said they did not wish to comment.