G8 summit: 'The hedges have eyes' along the road to Enniskillen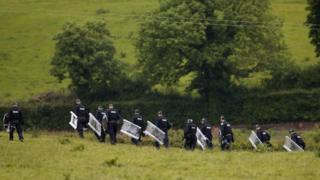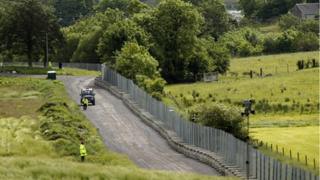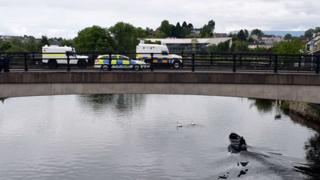 At first, it is a small child's game - the kind that exasperated parents play to make car journeys seem shorter.
It is the day before the G8 summit is due to begin and in Belfast, counting police cars is easy as one, two, three.
The signature blue and yellow cars are easy to spot … four, five, six - child's play.
But the G8 is in Enniskillen, so let's head down the motorway, going west to the green hills and fields of Fermanagh.
Yes, in the city, there was a smattering of police cars, but 30 miles down the road and it starts to rain down police officers.
'Big Brother'
Uniformed men and women keep watch over motorway bridges, they whack the bushes at the side of the road.
It is a scene from another time - like driving along through the Eastern bloc on the single, guarded road to Berlin in the days before the wall came down.
Big Brother is watching - the hedges have eyes.
And you wonder if it was wise to hitch a lift to Berlin from a man who liked to drive barefoot and talk wacky. But that was over 30 years ago.
This is the road to Fermanagh in peace time, hours before the G8 summit. If the world's super powers are on their way, then no-one is taking any chances.
In a sleepy village, a policeman unscrews a lamp post cover and 'hokes about' inside.
'No ordinary weekend'
Further along on a quiet country road, an officer trawls through the contents of a bin.
On street corners, uniformed squads stand and chat.
This is no discreet security presence, for this is no ordinary sleepy Sunday in Fermanagh.
The sense of vigilance swells with each motorway bridge, as small clumps of policemen sprout on more and more street corners, reminding you that this is no ordinary weekend.
Enniskillen is no stranger to the spotlight. It was here that an IRA bomb exploded on 8 November 1987, killing 11 people at a Remembrance Sunday service.
Here too, that the late Gordon Wilson shared the last words spoken by his daughter Marie, from under the rubble of the bomb site.
"Daddy I love you very much," she said, before she slipped away from him into death.
War memorial
His message of love and forgiveness was screened around the world and touched millions of hearts.
Fast forward to today and in Enniskillen, a lone Japanese Buddhist monk stands at the war memorial close to the very same spot, to spread his message of peace and his campaign for nuclear disarmament.
He hits a small drum, that echoes like a heartbeat through the town, and holds a banner proclaiming "peace" in various tongues.
He has been walking for peace since 2009. He walked 200 miles to the G8 at Camp David last year and this year he walked the 80 miles from Belfast to Enniskillen.
He has plans for St Petersburg next.
'Spruced up'
This G8 summit, like the elephant, has had a lengthy gestation.
It seems like another age since Prime Minister David Cameron announced that Fermanagh would be the venue.
For local people, these have been strange times - their town has been spruced up.
Gone are the planters for the flowers - too much of a security risk - but everything, including the Clinton Centre, has been brightened up to shine like a Hollywood set. Obama should be proud.
"What we've got out of it is a lick of paint," sighed one local woman with a shrug.
Others are hoping for more than the inevitable traffic jams.
The spotlight of the world is on them - you could not buy this kind of world publicity.
'Media circus'
My friend emails me from New York.
"I've heard a whisper that Barack will be sleeping on an aircraft carrier on the River Foyle," she said.
"Rubbish," I reply, "He is staying at the Lough Erne five star resort and having boxty for tea."
Boxty is a local specialty. It will be what Barack and Vladimir and Angela and the other leaders will be enjoying.
But they will carry out their talks in a parallel universe - it may be two miles down the road but it might as well be a million. The ring of steel and the razor wire and the sniffer dogs lie in between.
Meanwhile the streets of Enniskillen are awash with green uniforms and journalists hulking cameras and waving notebooks.
The media circus is in town. They descend in a swarm on the three tiny tents of anti-summit protesters down by the waterfront.
'Armed to the teeth'
Emma Goldman has travelled over from Swansea with a few friends to protest.
The G8 leaders have no interest in the majority of people, she claims.
"They say they want to talk about world hunger and poverty but to me that is a sham," she says.
Soon the world's leaders will arrive.
But for now, it is a town that is waiting and watching - a town that is armed to the teeth.