Sammy Wilson accuses Irish government of 'stealing' tax revenue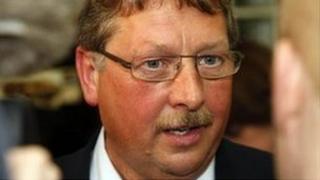 The Northern Ireland Finance Minister Sammy Wilson has accused the Irish government of "stealing" UK tax revenue.
The DUP minister said he was concerned companies were using the Republic of Ireland to pay tax which he claims should be paid in the UK.
The Irish government has insisted there is nothing wrong with its tax laws.
Mr Wilson said the UK government should put pressure on Ireland.
"My view is that the British government does have some leverage on the Irish government there, because they have a £7.5bn loan, that is a lot of leverage," he told the BBC programme Sunday Politics.
"They should be saying to the government in the Republic, you cannot steal tax revenue from us in this way and that is in fact what has been happening."
The UK is hosting the G8 summit in County Fermanagh on Monday and Tuesday and has put tax and transparency at the heart of the agenda.
Prime Minister David Cameron wants the meeting to include country-by-country reporting of where companies pay their tax.
The Irish government has said its loan from the UK government was not linked to changing tax rates.
Irish junior finance minister, Brian Hayes, rejected claims that Ireland was a tax haven.
"It is wrong and it is put out there by countries I suspect who are looking to the success we are making of this country in terms of inward investment," he added.
"The fact of the matter is this, it is not Irish tax law that is at stake here, it is other jurisdictions with their tax law."