G8: Some buses cancelled as schools prepare for disruption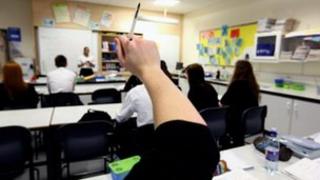 Schools in the greater Belfast area are expecting widespread disruption on Monday morning as President Obama arrives to join the G8 summit.
Pupils have been advised to get to school hours in advance of exams.
All buses for special schools in the Belfast area have been cancelled on Monday although those schools have been told they should plan to stay open.
Some principals have said they are angry at the disruption.
In mainstream schools, the picture is extremely confused but the main message seems to be that schools will stay open for exam pupils but other year groups are not expected to come to school.
On Monday, around 8,000 GCSE and A level papers are scheduled to take place across Northern Ireland.
Some schools have told even those doing afternoon exams that they should come to school in the early morning where they will be able to get breakfast and last minute revision tuition.
In Enniskillen, special transport arrangements have been made, with a premium bus service for exam pupils and a hotline for schools having problems with traffic hold-ups.