Patricia Quinn: 40 years in the Rocky Horror Show 'circus'
By Peter Coulter
BBC News, Belfast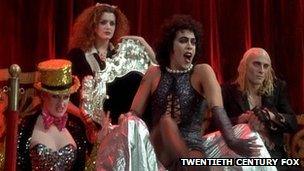 Forty years ago, the Rocky Horror Show opened for the first time in London - now fans from across the world have started a campaign to get a statue erected to one of its stars from Northern Ireland.
When Richard O'Brien's unique show opened on 19 June 1973 for a three-week run, it became the talk of London with people, including Mick Jagger and Princess Margaret, flocking to see it.
For one actress in the show, Patricia Quinn, who played Usherette and Magenta, her new-found fame was a far cry from her childhood in Belfast.
Pat, who grew up on the Ballygomartin Road in west Belfast, began acting at an early age at the Princess Gardens Grammar School.
After getting some early jobs in Belfast, Pat was sacked from a job at the Arts Theatre because she had bronchitis.
She decided to try to try her acting hand in London. The day 17-year-old Pat left the city, an article appeared in the Belfast Telegraph with the headline "countdown for a star of the future."
"It was ambition that drove me to London. I headed off from Belfast to London at the same time Richard O'Brien was leaving New Zealand for London - little did we realise we would end up working together," she said.
"I stayed with another Northern Irish actor, James Ellis, who was in Z Cars. A lot of Northern Irish actors stayed with him when they moved over."
While studying at the Drama Centre in London, Pat worked as a Playboy bunny in Hugh Hefner's Playboy Club.
"I don't think my family knew I was a bunny. It was so glamorous. I was a blackjack dealer. Not many actresses have worked as bunnies."
It was shortly after this that the prospect of working in the Rocky Horror Show raised its fishnet-covered leg.
"My agent phoned up and he said there is a show at the Royal Court. He didn't want me to do it because it was only £18 a week so it was no use to him," she said.
"I said 'What is this thing?' and he said 'I think it's something about a circus', and in a way he wasn't wrong because I've been in this circus ever since."
The stage show was, of course, incredibly popular. It sold out its original three-week run and was extended. 20th Century Fox then acquired the film rights and the show was set to transfer from the stage to the screen in 1975.
"It was blood, sweat and tears working on that film as we had to do it in six weeks," Pat said.
"When it opened it was a complete flop but Fox put it on at midnight on campuses across America and the audience began to grow."
The Rocky Horror Picture Show, the name of the film version of the stage show, is known for its loyal fans and its audience interaction.
"Next thing we knew people were dressing up as the characters and shouting at the film. It was extraordinary really," said Pat.
"So many men dress up as Magenta, it's actually normal to me now. They look fabulous and I love it.
"You wouldn't believe the number of people who have approached me and have told me that the film has changed their life.
"People who don't fit in or are confused about their sexuality can relate to the film and they find comfort in that."
In 1995, Patricia married fellow actor Sir Robert Stephens.
"It's incredibly funny for a Rocky girl and Playboy bunny to now be a lady," she said.
"Prince Charles asked me how I felt about being a lady - I told him it was a gas.
"I invited him to see the show but he said he couldn't really go because of the fishnets and suspenders. I suggested he come as Brad, the nerd who wears a doctor's coat and Y-fronts. I don't think he was impressed."
Now to celebrate the 40th anniversary of the stage show a group of Rocky Horror fans have started an online petition to get a statue of Magenta erected in Belfast.
There is a statue of Richard O'Brien's character, Riff Raff, in New Zealand to which thousands of Rocky fans make a pilgrimage each year.
'Amazing rocky horror life'
Pat, who still attends comic book conventions and fan events across the world, has been overwhelmed by the response to the petition.
"It's incredible, the Rocky Horror community has really got behind this project and wouldn't it be wonderful to have a statue of Magenta and her ray gun to welcome people to Belfast," she said.
Speaking about how the stage show and the film have remained popular Pat said: "Each generation rediscovers Rocky Horror - it's really quite extraordinary.
"Even the Time Warp has endured and people are still inviting me to events to perform it and you can be guaranteed to hear it at every wedding," she said.
"I've been around the world with Rocky Horror and now it has brought me back home."
Related Internet Links
The BBC is not responsible for the content of external sites.