Ex-Policing Board chairman Brian Rea awarded CBE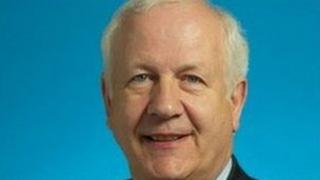 Former Policing Board chairman Brian Rea has been awarded a CBE for services to policing and the community in Northern Ireland.
Belfast broadcaster Paul Clark received an MBE for his services to the community in Northern Ireland.
The oldest person honoured was Blodwen Espley, 92, who receives the BEM.
Ninety-three people in Northern Ireland were honoured in the Queen's Birthday list - in total 1, 180 recipients were honoured.
Mr Rea was a member of the Policing Board from 2006 until earlier this year.
"It's a tremendous encouragement that at least during the time that I have been serving on the Policing Board I have been doing something that has been worthwhile and it's something that I have enjoyed," he said.
"Also I had the support of my wife, especially my wife and family, and I think that it is something for them as well."
Derek Booker was awarded an OBE for services to maritime and industrial heritage in Northern Ireland.
"I almost work, live and breathe on the river and have done for 14 or 15 years," said the director of Lagan Legacy.
"When they knocked down the old Harland and Wolff shipyards, as we passed by, we made contact with them and we salvaged a major archive of theirs of ships' plans, engine plans, and other items, and we did interviews.
"We eventually over a period of six years acquired a Dutch barge and brought it to Belfast and built a home for this archive and it's now Ireland's first maritime floating museum.
"It's the only one in Britain as far as I know."
Five of the recipients are serving or retired members of the police - three of them received the Queen's Police Medal - the others received MBEs.
Two husband and wife teams were also on the list.
Frank and Susan Gervin, co-founders of the Cloncoe Boxing club, were each awarded an MBE for services to the local community in Coalisland, County Tyrone.
Roger and Valerie Denny each were honoured with a British Empire Medal (BEM) for charitable services in Bushmills, County Antrim.