Northern Ireland's history of street demonstrations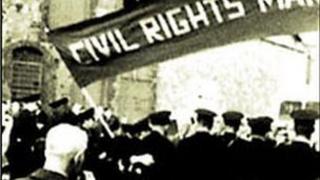 From civil rights to flags protests, there is a tradition of street demonstration in Northern Ireland, mainly involving our own local grievances. But international issues can inspire.
In 2003, thousands marched against the Iraq war when Tony Blair brought George Bush here. Cynics suggested the prime minister and the president wanted to avoid massive protest in London.
So what can we expect this weekend, ahead of the G8 summit?
"We are going to be out and about on the highways and byways," said Patrick Corrigan of Amnesty International.
He told BBC's The View that the rally in Belfast city centre on Saturday afternoon would focus on issues around world poverty and war.
"We'll be trying to rally people around a message of global justice rather than injustice," he added.
Boost
US President Barack Obama is among eight leaders from wealthy nations set to talk tax, trade and other issues.
While Prime Minister David Cameron is aiming to bolster Northern Ireland's economy, Fermanagh is also viewed as attractive to politicians keen to avoid angry protests about hunger and poverty.
Fermanagh now has fences further than the eye can see. And protesters will be kept well back from the summit, with a ring of steel around the Lough Erne resort.
When the G8 was held at Gleneagles in Scotland, there were more than 300 arrests despite the rural location.
In London this week, police made more than 50 arrests at a G8 protest.
The journalist and political activist, Eamonn McCann, doubted claims of 20,000 protesters hitting the streets.
He has expressed concern there is too much focus on security and not enough on the right to protest.
Pop-up prisons
"I'm concerned with the way in which the right to free assembly has been arbitrarily removed - apparently at the prompting not of politicians but of the police. I'm concerned about the fact we are being made to get even more used to an armed police...in a situation and context which has nothing to do with paramilitarism."
He pointed to the preparation of pop-up prisons and warnings of arrest, despite the fact most protests are peaceful.
Mr McCann said he was concerned people were being frightened away from protest. He also warned the state and police were taking on powers that could be used in future in other contexts.
What he wonders, will the Irish government do with its power, to block out mobile phone networks along the border?
He accused politicians of failing to debate these security measures as police from Great Britain are imported to Northern Ireland.
"All these things are happening without any political debate," he added.
Sinn Fein's Gerry Kelly said his party supported legitimate protest and had worked behind the scenes to ensure police are held to account.
"There's something like between 43 and 47 separate police services involved here from Britain (which) have signed up to being accountable to the Police Ombudsman. They all had to sign up individually for this so the Police Ombudsman will be able to investigate anything there."
Window of opportunity
County Fermanagh is welcoming world leaders, but one DUP MLA from Fermanagh South Tyrone, Lord Morrow, expressed regret recently in the assembly that the G8 could attract "malcontents and anarchists".
"They see it as window of opportunity to express their worst excesses," he said.
Police insist they have to be prepared for problems while campaigners insist most protest is peaceful.
Certainly, political leaders here, including the First Minister Peter Robinson and Deputy First Minister Martin McGuinness, are anxious that the G8 showcases Northern Ireland at peace.
Eamonn McCann characterised the agenda of the executive and the government as about showing Northern Ireland as a place where people had been "bought off" or "pacified" with no challenge to the G8 and what it represents.
"I think that's a pity," he said.
But ministers argue that after years of turmoil, an image of peace is vital for Northern Ireland's economic development.
Patrick Corrigan said a letter had gone to the secretary of state, the chief constable, and the justice minister to remind them of the importance of the freedom of speech and protest.
Mr Corrigan said it was important people were engaged in the debate about the direction of global issues.
"These decisions are too big simply to be left to seven men and one woman down in the Lough Erne resort, locked away from the rest of us," he said.
New generation
A new film about protest movements around the world, Occupy Love, was screened in Belfast this week.
Film-maker Velcrow Ripper said there is a new generation who are energised and looking for solutions to global issues.
"The slacker generation is over," he told the View.
"They are inheriting a world that's in deep trouble especially with the climate crisis and they are looking for a way to change that."
He said social media has bolstered protest movements and he cited the "Idle No More" rights movement in Canada which sprung from the indigenous youth from the First Nations and Inuit.
He also pointed to the rising in Turkey and the anti-austerity movement in Europe.
But students at South West College in Enniskillen, interviewed by the View, were enthusiastic about the benefits the G8 was bringing their county - and dismissed any notion of protest.
Ronan McDonagh said the G8 was putting Fermanagh on the map and could boost tourism.
"It can only bring good - besides the protesters, that will be the only bad thing about it," he said.
Kirsty Fagan, a catering student, said she supported the right to protest as long as it was "mannerly" but had no plans to protest herself.
Amy Kenny said Enniskillen had been brightened up ahead of the G8 summit.
She had no plans to protest. "I don't see the point," she said.
The View is on BBC One at 22.35 BST on Thursday.