PM to unveil economic package for Northern Ireland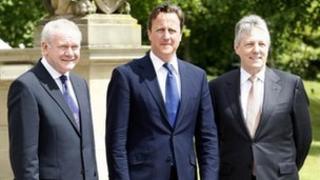 An economic package for Northern Ireland, due to be unveiled later, will help create jobs in the private sector, according to Downing Street.
David Cameron is due to meet Northern Ireland's first and deputy first ministers to sign off on the package.
The secretary of state said NI was likely to maintain its multi-million pound EU assisted area status grant.
The plan - linked to community integration measures - is also expected to include more borrowing powers.
This could amount to £50m over two years. to help the Stormont executive fund its "shared future" programme.
'Ambitious vision'
The government said it could also look at "gifting" resources in the form of Ministry of Defence (MoD) houses and bases.
Mr Cameron said: "This agreement is a symbol of our ambitious vision for Northern Ireland - a genuinely shared society that is fulfilling its economic potential and strengthening the foundations for peace, stability and prosperity for the future."
Downing Street said the package - to be launched after a meeting between the three leaders in London - will also include significant regeneration projects and initiatives to promote new businesses and help tourism.
Neither No 10, nor the Stormont executive, have put an overall value on what is to be announced.
First Minister Peter Robinson said not everything could be "put down to pounds and pence".
"Indeed, if it was that sounds more like begging bowl economics to me," he said.
"The whole purpose of what we're doing is a recognition, I think on the part of both the government, and the Northern Ireland executive, that there are two key features to the future of Northern Ireland.
"One is the economy and the other is a shared future.
Removing walls
"What we're attempting to do is to put in place the kind of measures, economic and fiscal issues that will assist us in getting growth in our economy over that period of time and to close the gap between our divided communities."
Secretary of State Theresa Villiers said Northern Ireland was likely to maintain its multi-million pound EU assisted area status grant.
"There should be some good news on the assisted areas status point," Ms Villiers said.
"I know how important that is for Northern Ireland. It looked at one stage very much that this would be impossible to maintain 100% assisted area status for Northern Ireland.
"I am certainly expecting that there will be good news on that this afternoon when the prime minister and the first and deputy first minister make the announcement."
London and Belfast have been in negotiations on the package for several months, ever since Mr Cameron decided to hold off on a decision on whether or not to devolve powers on corporation tax to Northern Ireland.
The economic initiative is tied in with commitments made by the First and Deputy First Ministers Peter Robinson and Martin McGuinness, aimed at breaking down barriers between Protestant and Catholic communities.
The commitments, which they outlined at Stormont last month, include removing peace walls within 10 years.