PSNI: Belfast union flag protesters were warned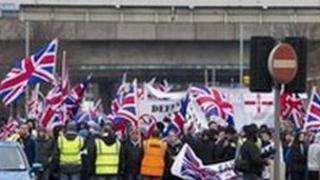 Police paved the way for future prosecution of union flag protestors by issuing public warnings, the High Court has heard.
The judge was told police informed the protesters that they were taking part in illegal marches in Belfast.
Officers used loudhailers and signs to ensure demonstrators were aware of the potential consequence of their actions.
Counsel for the PSNI denied claims that senior officers were ignorant of the law and did nothing to intervene.
The lawyer said the police warnings cleared the path for future investigative action.
The PSNI and Secretary of State Theresa Villiers are facing a legal challenge over marches from east Belfast staged every Saturday from December to February.
An unidentified resident in the nationalist Short Strand enclave claims his right to privacy was breached by demonstrations that passed close to his home and sometimes erupted into violence.
Major disorder
His legal team wants a declaration that the failure of police to stop demonstrators travelling along the route breached parading legislation.
Under the Public Processions Act, brought in after major disorder across Northern Ireland linked to the Drumcree dispute, notification of marches must be given to the Parades Commission.
Mr Justice Treacy heard claims that the police operation undermined parading laws by allowing the illegal marches to take place for up to three months.
Organisers and participants should have been arrested for criminal offences, according to the Short Strand man's lawyers.
The court was told that up to mid-March six people had been prosecuted.
Tony McGleenan QC, counsel for the police, said PSNI senior command was focused on operational policing decisions.
Officers took the "critical step" of ensuring protesters were informed no notification had been given to the Parades Commission, the court heard.
Made clear
Had that not been done, those involved could have claimed they were unaware of the situation.
Loudhailers were used and signs put up for those with hearing difficulties.
Asked when police first alerted demonstrators, Mr McGleenan said command logs showed it was on 8 December, as a crowd was heading down the Newtownards Road.
The judge noted that, if right, it showed police knew the processions were illegal and took steps to make that clear.
"It's the gateway to the criminal justice strategy," Mr McGleenan replied.
"If you have done that and have video evidence it means those participating are vulnerable to prosecution, charge and possible successful conviction."
The barrister insisted there was no confusion among police about their powers.
It was put to him that the legislation removed from police the authority to ban parades, leaving them to deal with those who fail to give notification.
Mr McGleenan responded: "Exactly. It puts them in a position they certainly don't want to be in."