New unionist party tweets in Irish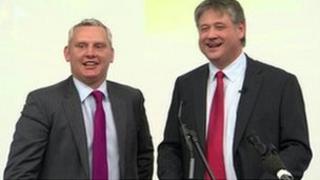 The new political party NI21 has begun sending out tweets in Irish.
The pro-union party was launched in Belfast last week by MLAs Basil McCrea and John McAllister, who left the Ulster Unionist Party earlier this year.
NI21, which supports the Belfast Agreement, said it wanted to create politics for the 21st Century and build on the Northern Irish identity.
The party's Jonathon Rainey said they would tweet in Irish "because our party is of interest to Irish speakers".
NI21 is the first pro-union party to regularly tweet in Irish.
The latest message, An mbeidh rath ar pháirtí úr Mhic Rath? translates as, Will there be success for McCrea's new party?
'Appeal to all'
Coincidentally, the tweet could be viewed as a play on words. The word rath means success and is contained in the surname Mac Rath, the Irish form of McCrea.
Mr Rainey, who organises NI21 communications and is responsible for the tweets said the party had also sent out tweets in Spanish and would continue to tweet in Irish because NI21 "wanted to appeal to all".
He said the party wanted to engage with as many as people as possible and tweets in Irish "were part of that strategy".
One of the party's latest tweets links to an article in Irish discussing the formation of the party, which is led by the Lagan Valley MLA Basil McCrea who was born in County Donegal.
Those behind NI21 have been keen to embrace social media in an attempt to attract supporters and engage voters disengaged with politics.
The party's Belfast launch was streamed live on the web, which was a first for a new political party.
Its use of Twitter has also attracted attention and has even prompted a parody account that has almost 600 followers.
You can follow Stephen Walker on Twitter at @StepWalkTV